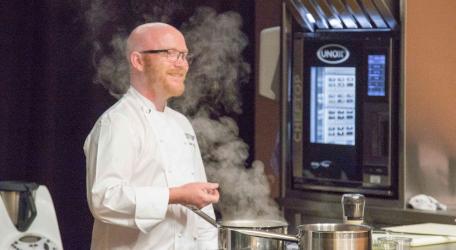 Saturday Cook School with Gary
City of Glasgow College is delighted to announce another exclusive event with Gary Maclean, MasterChef: The Professionals Champion 2016.  A day with Gary at our Saturday Cook School will begin at 9.30am in our Garden Atrium where you will be served tea, coffee and a selection of breakfast canapes before going into our state of the art City kitchen. 
Throughout the day you will prep and cook dishes with hints & tips along the way.  In the afternoon you will have the opportunity to sit down, relax and enjoy a glass of wine and a two-course lunch which you will have made with your classmates.   The MasterChef: The Professionals Champion 2016 said "Participants will have a lot of fun and learn how to cook exceptional food in the kitchen environment where I cook and teach everyday".  
This is an exclusive event with limited places (max of 20). 
Saturday 11th November from 9am – 4pm 
City of Glasgow College, City Campus 
190 Cathedral Street, Glasgow, G4 0RF  
£200 per head.