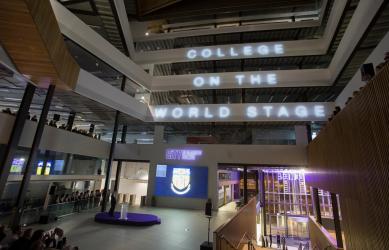 City of Glasgow College's inaugural International Education and Maritime Symposia was hailed a success by delegates and guest speakers. Held over Wednesday 26 and Thursday 27 October, the two day event brought together eminent academics and business leaders from around the world to see the very best of Scottish College education and to discuss the critical role of colleges for the next generation of students.
Background 
For too long the contribution of College education has been undervalued and not fully understood, viewed more often as a stepping stone to university rather than final and empowering destination. These important education symposia sought to challenge the status quo and to articulate the critical role of colleges. 
Event Outline
The event brought together stakeholders, policy makers, decision makers, academics, business leaders and key influencers to debate policy and offer practical solutions in support of core themes - widening access to further and higher education; skills training; apprenticeships; course design; employer engagement and the future of college education. 
Contributors
Speakers included leading researchers and eminent academics from across the globe: Edinburgh University, the Institute of Education UCL, Oxford University, Columbia University New York, Singapore Workforce Development Agency, Beijing Academy of Educational Science, and the Sutton Trust. 
International Maritime Symposium 
Some of the most influential maritime academics and business leaders joined us to discuss the future of maritime education and the important role it plays in delivering high quality technical and professional skills. 
Held at our Riverside campus, on the banks of the River Clyde, the multi-award winning building is the most modern and most technologically advanced maritime campus in the world. It is home to over 3,000 Marine and Engineering students. 
International Education Symposium
This ground breaking and thought provoking event featured eminent academics and business leaders from across the globe, who joined us to discuss the future of college education and the role a super college plays in redefining the tertiary sector. 
Held at our new City campus right in the heart of Glasgow's Learning Quarter, the architecturally stunning super campus, designed for 40,000 students, played host to what was an inspiring series of events. 
The two day symposia (26-27 October) culminated in a Gala Evening Launch of our new City Campus on Thursday 27 October 2016.
Writer and editor, Paul Stanistreet, considered the impact of the Education Symposium in his guest blog, Reflections on Symposium.