Event Date:
Tuesday, December 12, 2017 -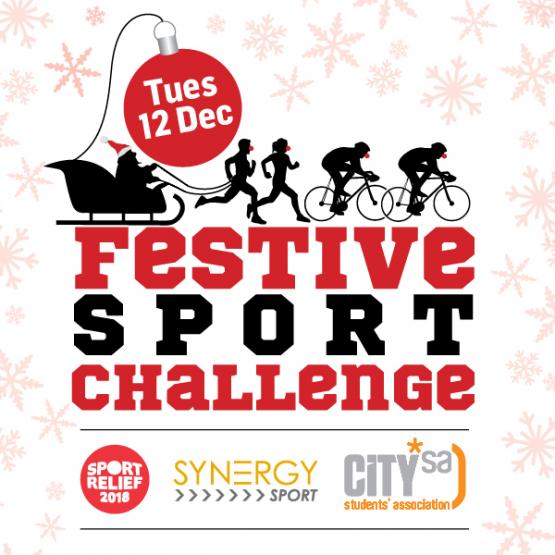 Festive Sport Challenge 2018
Location
City Campus
190 Cathedral Street, Glasgow, G4 0RF
Come along to CITYSA Festive Sport Challenge on Tuesday 12th December at City Campus: Floor 1 - Plaza (next to the jumbo screen). During which our students and staff will be working hard to raise money for Sport Relief 2018.
This is a fun packed day open to all students and staff at the College and getting involved is easy you can:
Enter one of our challenges or cheer on our competitors
Sample some of our delicious festive treats
Find out more about the College Sports Clubs and the Societies
Meet 2 of the stars of Glasgow 2014 & graduates of the College
Meet Bonnie the Seal, official mascot of Glasgow 2018!

Challenge 1
1000km Spin "around" Scotland's Colleges and Universities to show our support for Scottish Student Sport and to raise money for a great cause, Sport Relief. This will involve 9 spins bikes (named after Santa Claus's reindeers), lead by Rudolf, of course, frantically spinning constantly from 9am - 5pm in order to travel the 1000km distance.
If you would like to take part simply click on the link below and register for your 15 minutes slot between 9am - 5pm to complete 5km slot. Why not take part with your fellow classmates and register as a team and if you are feeling fit just book more than one slot!

Challenge 2
Next is 'Peter's Penalty Charity Challenge, take on Peter Dennison, Sports Lecturer and former Glasgow Rangers goalkeeping coach. It's your chance to be a CITY footballing superstar by scoring a penalty, all that stands in your way is 12 yards and of course our very own super goalie Peter!
Minimum Suggested Donations:
£2 per entry (3 attempts per person)
£1 for spectators to cheer on Peter and the brave competitors
Book your penalty time slot now
*Remember to book your slot asap as they are only 30 places up for grabs and once they're gone they're gone!
Join in the fun on the 12th and get along to our City Campus from 9am – 5pm and enjoy Christmas themed treats such as mince pies, short bread, mulled wine and ginger wine (non-alcoholic).
We'll also be promoting the many sports clubs and societies the Students' Association has to offer too.
Meet the stars of Glasgow 2014
We are delighted to have in attendance supporting our event two special guests who are not only famous for competing at Glasgow 2014 but best of all are graduates of the College. Come along have a chat, get photos and be inspired about finding out about their journey to becoming professional athletes.

Name: Georgina Black
Sport: Weightlifting - 63kg
Graduate in: HND Sports Coaching with Development of Sport
Time Slot: 10am - 12pm

Name: Kimberley Renicks
Sport: Judo - 48kg (Gold Medal Winner)
Graduate in: HND Sports Coaching with Development of Sport
Time Slot: 12pm - 2pm

Meet Bonnie the Seal
Get your very own sealfie with Bonnie the Seal, official mascot of Glasgow 2018 who will be supporting the event and giving it her veruy own "seal" of approval between 2:30pm - 3:10pm.
Festive Treats
Come along and sample the fantastic festive treats thanks to the wonderful College caterers and event supporter:


All festive treats are currently top secret just now but be sure to pop along and sample them! Minimum suggested donation £1 per item
How to Donate
Every penny counts so no matter whether it is some spare change or something more substantial then please donate.-
- Online: https://www.justgiving.com/fundraising/citysa
- In Person: Drop your donation in the buckets in the CIty Campus in the plaza on the day