Full Time Prospectus
You can pick up a copy of our full time prospectus from any of our campuses, download a version in PDF format [1] or view our digital version [2] online.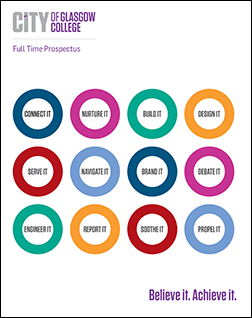 [2]
Alternatively, please contact us on 0141 566 6222 to request a hard copy or email enquiries@cityofglasgowcollege.ac.uk [3]
Part Time Prospectus
You can view and download a copy of our current part time prospectus [4] today.
Some of these documents may be quite large and take some time to download.
Background image: