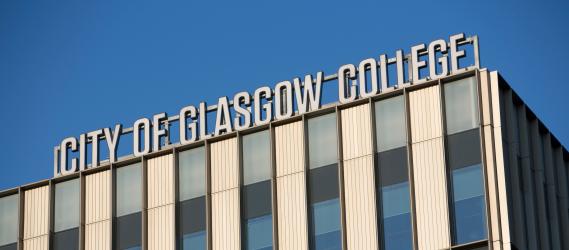 INFORMATION FOR STAFF
City of Glasgow College is closed and all face to face teaching suspended.
Our focus remains firmly on the health and wellbeing of all our staff and students and we continue to follow closely the advice set out by The UK and Scottish Government.  Students are being provided with guidance on continuing their studies.  Adapting to a rapidly changing situation is not easy. We very much appreciate the efforts of those of you who are already picking up tasks not normally central to your role and the continued support and reassurance you give to our students, many of whom are naturally very anxious. It is important they continue to keep in touch with you and college-wide sources of information, and we encourage you and them to do so.
Learning and Teaching
Please be reassured that the College is supporting students, and has measures in place, to enable them to complete their assessments at a distance and via online learning tools. It may also be the case that some, or all practical assessments may be delayed until a future date. Your line manager will issue you with guidance on that.   We will do everything we can to make sure that students can progress to the next stage of their course.
Working from home/remotely
From Wednesday 18 March City of Glasgow College is moving to remote/online learning. That is on the expectation that staff can work remotely/work from home. This includes Bank Staff contracted to work during the current block.  You should discuss with your line manager what tasks you can undertake at home, and what technology you can access to support that. Information on remote working for teaching/academic staff is here and for support staff here.
Library information and log in details for all digital services available to staff and students are here.
Will staff be paid due to College closure or absent as a result of sickness or contracting Covid-19?
Staff will continue to receive their salaries as normal.
If a member of staff is absent from work due to sickness as a result of Coronavirus (or suspected Coronavirus) then normal absence reporting and sick pay rules will apply.  Please make sure your line manager is kept informed during any period of absence. Any absence that occurs as a result of any of the above will not be counted towards absence triggers under our current Sickness Absence Procedure.
What do I say to students who are concerned about missing classes or assessments?
Students have been advised that they should not worry about missing classes or assessments because of the above guidance.  Please see above guidance about learning and teaching online.
Exams have been cancelled. What does that mean?
City of Glasgow College will continue to engage with you to help you with your course and provide as much support as possible to allow you to achieve. We are currently working through the details and practicalities of that. As we do, your lecturers will stay in touch with you and support you in progressing your learning.  As soon as we get more information from SQA about assessment and graded units we will be in touch. 
If at any point you're concerned about elements of your course or have difficulty with distance-learning, please contact your lecturer or guidance tutor straight away. And remember our guide to remote/home working is here. More information for International Students is available on the UK Council for International Student Affairs website.
It is very important you stay connected with us. Please be patient, and try not to worry: we know that the situation is changing rapidly, and while we don't have all the answers just now, we're working hard to sort out the points you've raised about remote teaching and learning.
The Scottish Government have further information and support for students here.​
When will college re-open?
As the situation is changing so rapidly, we are unable to give you a date when the College will reopen. We are continuing to be guided by Scottish Government, the Funding Council, Scottish Qualification Authority and others. We are also following the advice of medical experts, particularly Health Protection Scotland. Updates are provided on our website and social media as well as our staff and student intranets. Please check them regularly.
What Is City of Glasgow College doing about Coronavirus?
City of Glasgow College is acting on advice from sources including the FCO, WHO, NHS and Health Protection Scotland and has closed all buildings and moved to remote/online learning and teaching.  We have taken proactive steps to ensure that everyone has access to the latest advice. We are monitoring the situation closely and will provide further updates as necessary.
I am caring for a dependent/my childcare provider/child's school is closed due to COVID-19. What should I do? 
If you are caring for a dependent as a result of their illness/isolation or following an emergency situation such as school closure, please notify your line manager.
I have been advised to self-isolate. What does that mean?
If you are self-isolating, you will continue to receive full pay as normal throughout the recommended period of time. Please remember, if you feel unwell, have an underlying health condition and/or have any of the COVID-19 symptoms, please stay at home. Follow current guidance and self-isolate at home as well as informing your line manager / HR (hr@cityofglasgowcollege.ac.uk) in the usual way. 
I'm concerned I may have the virus. What should I do?
Self-isolate and call NHS 24 on 111 if your symptoms worsen. Please do not go into medical facilities as this could infect others.  
If you test positive for the virus, report your absence in the usual way by contacting HR (hr@cityofglasgowcollege.ac.uk).
I'm concerned about a student/colleague/friend who is displaying symptoms associated with coronavirus. What should I do?
Refer to the NHS webpages for advice.
Board of Management
A message from Alisdair Barron, Chair, Board of Management.
Helpful Links