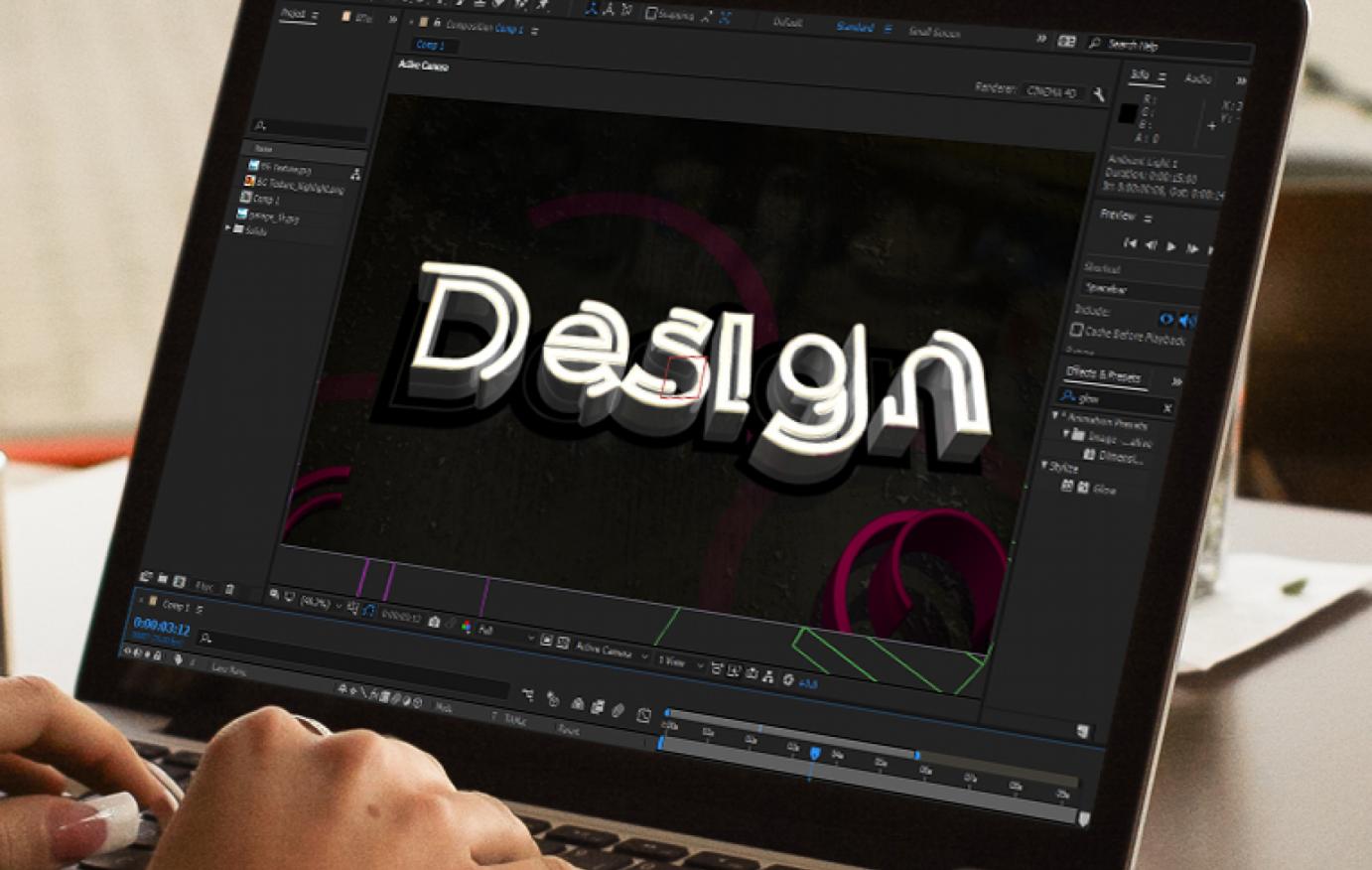 3D Motion Graphics: An Introduction
Applied Computing & Digital Technologies, Creative Industries
Mode of Study
Evening
Start Date
8th Mar 2023, 10 weeks
Day(s):
Wednesday
Time:
18:00 - 21:00
Location
Online
Cost
£ 155
Overview
This course is currently being offered as an online course. You'll need to have access to the following software to undertake this course.
Adobe After Effects.
Adobe Photoshop.
Adobe Illustrator.
Adobe Premiere Pro.
During this 10-week course, you'll gain the fundamental skills required to create a modern aesthetically pleasing motion graphics animation. You'll learn the process from start to finish, starting with concepts and storyboards, before creating your 3D motion graphics animation within After Effects, using the new Cinema 4D renderer. Along the way, you'll also learn some best practices for working within the industry, along with tips and tricks for speeding up workflow.
What you study
You'll study:
Creating concepts and storyboards ready for client approval.
The basics of using Adobe Illustrator and/or Photoshop to create your 2D graphics.
Importing your 2D graphics into After Effects and convert to 3D graphics.
Changing the preferences and settings within After Effects for faster and smoother previews.
Setting up cameras and lights within the scene.
Animation techniques within After Effects using keyframes and expressions.
Various ways to output your animation to a playable movie file, including a high quality for post-production and an optimised version for uploading to the web.
After the course
Careers
By the end of the course, you will have learned the skills required for creating your own motion graphics animations from start to finish, and you'll have a good understanding of the workflow. Possible options are to enhance your skillset further by continuing to study in a similar field and pursue a career as a motion graphics designer for a studio, or be your own boss and choose a career as a freelancer.
Alternative Dates and Times
Days(s)
Time
Dates
Duration
Duration
Course
Wednesday

18:00

-

21:00

4th Jan 2023 - 8th Mar 2023
10 weeks
10 weeks
View »
Mode of Study:




Evening

Evening and Weekends

Evening

Start Date:




8th Mar 2023, 10 weeks

Day(s):

Wednesday

Time:

18:00

-

21:00

Location:




Online

Cost:




£ 155