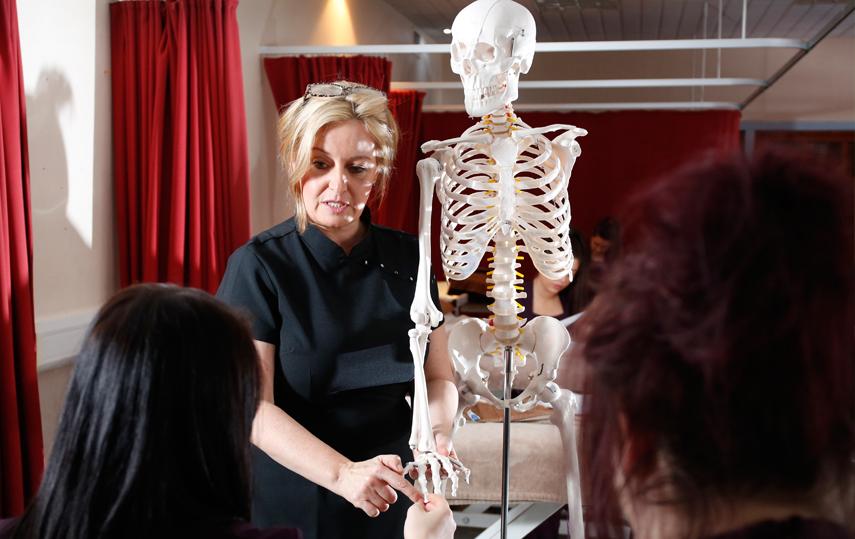 Anatomy and Physiology (Body Structures and Benefits of Treatment) NQ
(SCQF level 6)
Hair & Beauty, Hospitality and Leisure
Mode of Study
Evening
Start Date
30th Jan 2020, 18 weeks
Day(s):
Thursday
Time:
18:00 - 21:00
Location
City Campus
Cost
£ 236
Overview
This course will give you a broad overview of the major systems of the body, either for your own understanding of the human body and/or allowing you to explore further courses focusing on massage, aromatherapy, and reflexology.
Entry requirements
Minimum entry requirements
A background in human biology whilst not essential is beneficial. This may be through previous qualifications and/or experience.
If English is not your first language you will need to provide evidence that you have achieved ESOL Intermediate Level 2 (or equivalent).
What you study
You will study the various body systems:
Integumentary (skin, hair & nails).
Skeletal.
Muscular.
Circulatory.
Respiratory.
Lymphatic.
Endocrine.
Urinary.
Reproductive.
Nervous.
Digestive.
Immune.
You will also study therapy treatments which can benefit Body Systems.
After the course
Careers
This qualification in Anatomy & Physiology may be useful in many different career areas, but particularly in beauty and complementary therapy. Successful students will often progress on to other courses, eg Body Massage.
Continuing Study
Following successful completion of this course you can apply for Body Massage and then progress to other therapies such as Aromatherapy and/or Reflexology.
Teaching
How the course is taught
A variety of learning and teaching methods are used, which include presentations, worksheets, group work, DVDs and class discussion.
Assessment methods
Assessment includes 2 closed book papers, an open book assessment, (short answer responses), and an assignment.
The assignment is in the form of a report where you will research and write about 2 body treatments of your choice and the major systems affected by that treatment. This allows individuals the chance to discover how the body works and the positive benefits of body treatments.
Additional Information
Materials
All materials will be provided. These will be mainly in electronic format through access to the College's Virtual Learning Environment and further reading and useful websites will be recommended by your lecturer.
Alternative Dates and Times
Days(s)
Time
Dates
Duration
Duration
Course
Tuesday

18:00

-

21:00

28th Jan 2020 - 9th Jun 2020
18 weeks
18 weeks
View »
Mode of Study:




Evening

Evening and Weekends

Evening

Start Date:




30th Jan 2020, 18 weeks

Day(s):

Thursday

Time:

18:00

-

21:00

Location:




City Campus

Cost:




£ 236