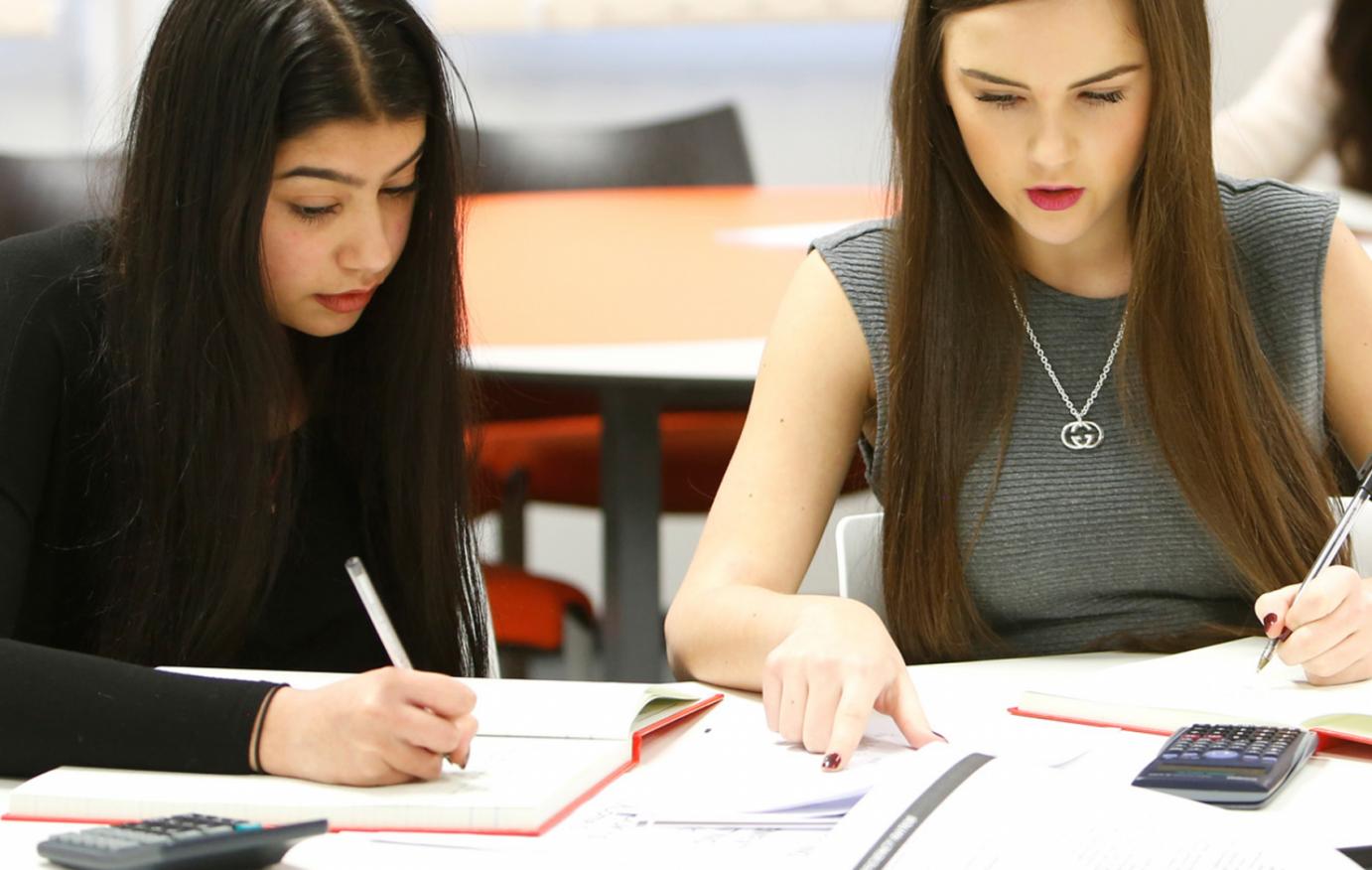 Mode of Study
Full-time
Start Date
31st Aug 2020, 2 years
Location
City Campus
Applications from International Students Welcome
Overview
The HND Accounting Award has been designed to meet the demands and requirements of the accounting industry.
Opportunities are provided to develop your skills, knowledge and understanding in preparation for employment, for progression to further study at university, or for courses run by professional accounting organisations like ACCA, CIPFA and CIMA.
The course focuses on the technical skill of students to be able to process accounting information for a variety of organisations including Sole Traders, Partnerships and Limited Companies. Students will also learn how to handle both Financial and Management Accounting scenarios and prepare written reports to communicate the outcomes. In addition, training is included on popular accounting software such as SAGE Accounts and SAGE Payroll. The course also enhances your skill in using Excel spreadsheets.
Personal Development Planning is also a key element of this course to encourage learners to consider future paths and set targets to ensure that the most is being made of opportunities available.
A full list of the units covered is provided in the section "what you study" below.
Throughout the course, you will undertake a programme of guidance activities designed to encourage the successful completion of the course.
You will be required to attend college on 4 days every week from 9 am to 5 pm for two academic years. However, in order to progress to the second year you are required to pass all the units undertaken in year 1.
The course is placed on the Scottish Credit Qualifications Framework at Level 8. For more information on the framework visit: www.scqf.org.uk/the-framework/.
Why Choose City of Glasgow College?
City of Glasgow College is a next-generation college. Our Campuses at City and Riverside have been meticulously designed to offer superb opportunities to our students and to meet and adapt to the changing needs of future generations. This future-proofing complements the vast open and inspiring learning and teaching environment. Here's just a few reasons why you should make City your first choice:
We have designed our curriculum to develop the technical skills of students and it is closely aligned with industry requirements, meaning our graduates can successfully transition from their course into employment.
Our Financial Services curriculum has been

recognised

by the industry in Scotland as we have recently won the 2019 Pioneer Award as a result of our industry engagement and teaching content.
We support our students in a classroom environment encouraging student engagement and improving attainment.
Over 90% of our successful students' progress directly to further learning, apprenticeships, or employment.
All of our students have a named Academic Advisor who can provide advice, support and signposting in key areas, such as:

Opportunities to discuss your academic progress.
Encouragement and an informed view with ways to enhance your academic studies.
Planned workshops from the student services team on a range of areas including finance and funding, careers information, help to be a class rep etc. You can suggest to your Academic Advisor workshops and talks that would benefit you.
A reliable point of contact throughout your studies, enabling you to make the most of your time at the college.
Make City of Glasgow College your first choice for a world-class education.
Studying HND Accounting, in particular, gave me an advantage in my current role as I had a really good understanding of Debits and Credits. That helped me when I was undertaking ICAS qualifications as part of my apprenticeship with EY" Danielle Stewart, Associate, Ernst and Young LLP.
Entry requirements
Minimum entry requirements
Entry into Year 1
Two Highers at Grade C or above in relevant* subjects AND National 5 English and a numeracy based subject at Grade C or above if not passed at Higher; OR
Other equivalent qualifications or experience, where verifiable evidence has been provided.
* relevant subjects include English, Mathematics, Business Management, Economics, Geography, History, Administration, Modern Studies and a Science subject.
Direct Entry into Year 2
HNC Accounting full time course with 15 credits; OR
HNC Accounting part time course with 12 credits.
External applications for HND Accounting year 2 will not be processed until the middle of August 2019 as internal candidates are given priority.
Additional selection requirements
You'll be invited for a group and/or individual interview where you'll get the opportunity to find out more about the course and tell us why you're interested in the subject area.
ESOL entry requirements
Applicants whose first language is not English should have minimum ESOL Intermediate level 2 or equivalent for NC/NQ courses and ESOL Higher for HNC/D courses.
What you study
Year 1
The mandatory units are:
Recording Financial Information.
Preparing Final Accounts.
Using Financial Accounting Software.
Cost Accounting.
Management Accounting Using IT.
Group Award Graded Unit.
The other units full-time students study to bring their total credits up to 15 are:
Payroll.
Personal Development Planning
IT in Business: Spreadsheets
Business Law
Economic Issues
Mathematics for Business
Year 2
The mandatory units are:
Financial Reporting and Analysis.
Accounting for Specialised Transactions.
Management Accounting for Decision Making.
Management Accounting for Planning and Control.
Business Taxation.
Accounting Graded Units 2 and 3.
The other units full-time students study to bring their total credits up to 15 are:
Research Skills.
Business Communication.
Auditing
Income Tax
After the course
Careers
This course prepares you for a career in:
Bookkeeping.
Financial and/or Management Accounting.
Accounts Technician.
Assistant Accountant.
Accounts Supervisor.
Financial Reporting.
Management Accounting.
Taxation.
Continuing Study
If you intend to progress to a degree course or apply for professional accounting bodies' exemptions, you are advised to liaise directly with the university/professional body concerned.
Successful students can progress to degree courses in related areas in Business and Finance.

Some popular progression routes are listed below:

Year 3 of BA Accountancy at Glasgow Caledonian University.
Year 3 of BA Accounting at the University of the West of Scotland.
Year 2 of BA Accountancy at the University of Stirling.
Year 3 of BA Accounting at Edinburgh Napier University.
Year 3 of BA Accounting with Finance at the University of Abertay.
HND Accounting allows exemptions from the foundation level exams for the Association of Chartered Certified Accountants (ACCA) and the Chartered Institute of Management Accountants (CIMA).
Teaching
How the course is taught
This course is classroom-based and attendance is vital or important content will be missed. Students are timetabled for approximately 16 hours a week, over 3 days. An additional 16 hours should be allowed for studying out with class time in order to be successful.
Learners will be completing practical assignments based on a variety of case studies. There will also be an element of report writing to demonstrate the ability to explain and analyse financial information.
Resources are provided to enable students to revise classroom learning in their own time.
Students will be required to use IT to complete some of the units. Excel spreadsheet teaching is timetabled in the first 12 weeks however applicants should ensure that they possess a basic level of IT ability in Microsoft Office including Word and Excel.
Assessment methods
This course is based on continuous assessment.
This means that the course comprises regular, small, controlled assessments i.e. where the learner must complete the assessment in the classroom under supervised and timed conditions. It is for this reason that attendance is of vital importance as missing class means you are likely to miss an element of course content which will assessed soon after. You may also miss scheduled assessments.
The assessments contain a mixture of numerical content and some written responses (either short answer or reports).
Students are entitled to two opportunities at each assessment.
Towards the end of the first year of the course you will undertake a Graded Unit examination, which is designed to assess your ability to integrate the knowledge and skills gained through the mandatory units. There are a further 2 Graded Units in the second year of the HND – a project based Graded Unit and a Graded Unit examination.
Additional Information
Materials
You will be provided with all course materials by your lecturers. These materials will also be available electronically on the college Virtual Learning Environment, My City.
All students should bring paper, calculator (a scientific calculator is not required), ruler, pens and pencils.
Mode of Study:




Full-time

Full-time

Start Date:




31st Aug 2020, 2 years

Location:




City Campus

Applications from International Students Welcome