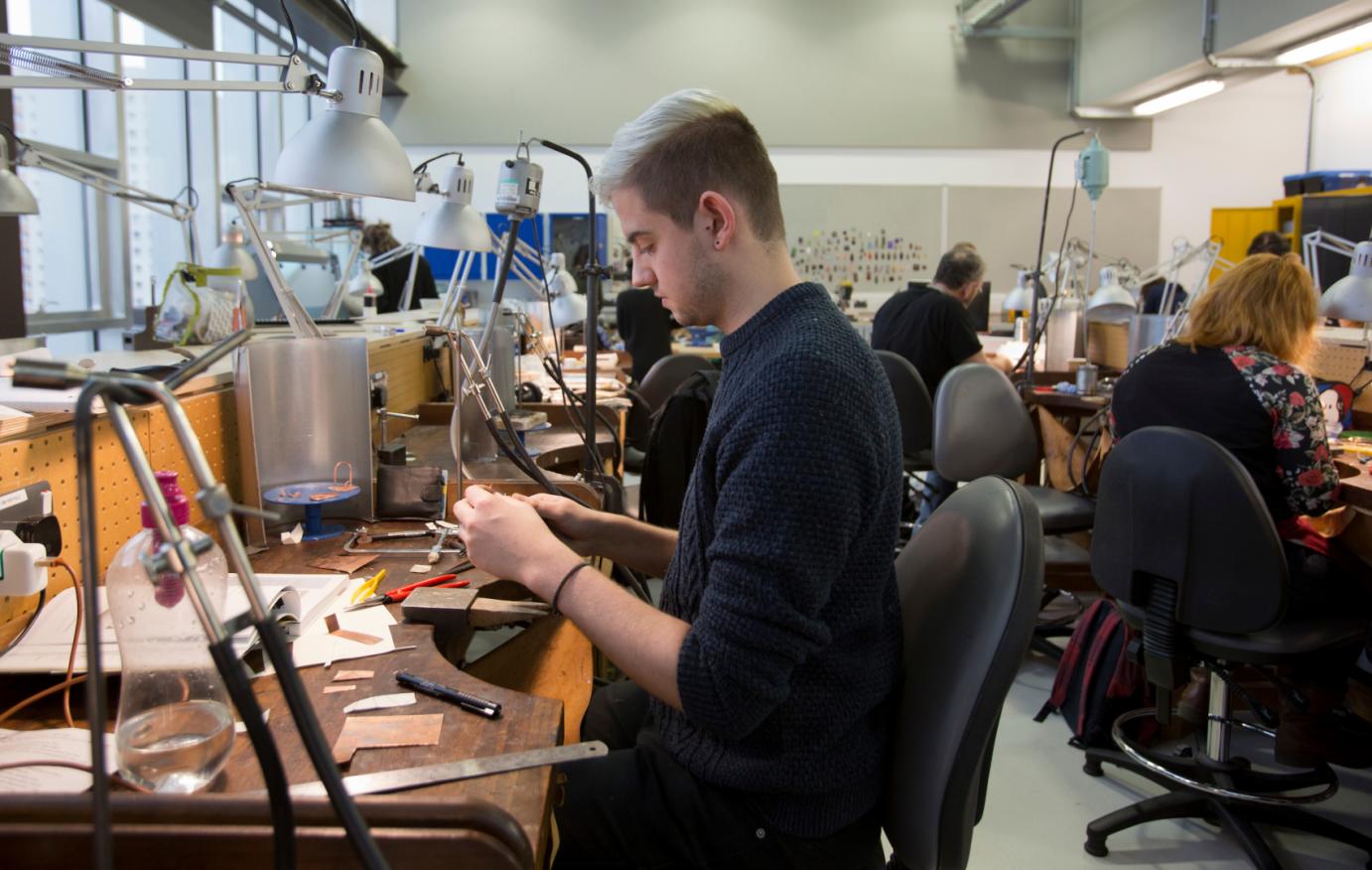 Jewellery Making - Intermediate
Design, Creative Industries
Applications closed
Mode of Study
Evening
Start Date
6th Sep 2023, 15 weeks
Location
City Campus
Cost
£ 226
Overview
The first few weeks focus on basic technical aspects of the course including health and safety. You will be shown how to reduce the diameter of wire on a drawing bench, use of hand and electric rolling mills and how to clean and polish using the correct equipment. From weeks 2-8 the following will be demonstrated:
2. Tapered ring shank construction, soldering, polishing and finishing.
3. Split twist shank for solitaire or double stone ring.
4. Stone setting for round stone, 6 prong rex setting.
5. Stone setting pear-shaped stone, pendant.
6. Enameling.
7. Keum-boo.
8. Etching.
The remaining weeks are for individual one-to-one tutorials
Entry requirements
Minimum entry requirements
You will need some knowledge of basic jewellery making.
Additional Information
Materials
All classes take place in a well-equipped jewellery workshop, however having a selection of your favorite hand tools including pliers set, needle files set cut "0", dividers, calipers, jewelers eyeglass x 3.5 magnification, dust mask, jewelers apron will improve your experience.
The College provides a small amount of non-precious materials and consumables. The College does not provide precious stones or metals for personal projects, which should be purchased as required by individual students.
Alternative Dates and Times
Days(s)
Time
Dates
Duration
Duration
Course
Wednesday

18:00

-

21:00

31st Jan 2024 - 22nd May 2024
10 weeks
10 weeks
View »
Mode of Study:




Evening

Evening and Weekends

Evening

Start Date:




6th Sep 2023, 15 weeks

Location:




City Campus

Cost:




£ 226