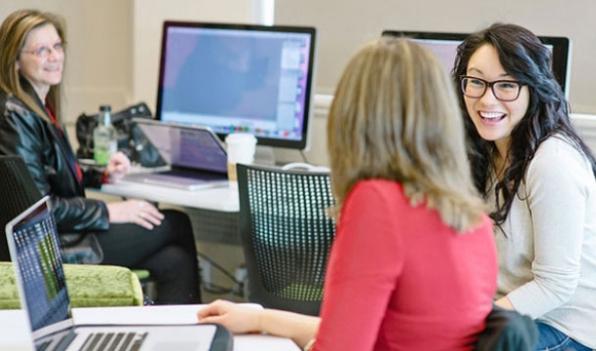 Supporting Digital Learning
Teacher and Training Development, Centre for Professional Technical Education
Mode of Study
Part-time
Start Date
12th Sep 2019, 8 weeks
12th Sep 2019, 8 weeks
Day(s):
Thursday
Time:
10:00 - 17:00
Location
External Site
Cost
£ 52
Overview
This online, distance learning short course provides successful candidates with a City of Glasgow College Certificate in Supporting Digital Learning at SCQF level 8. This is ideal for you if you are currently teaching, coaching or mentoring learners through formal and informal learning.
This 20-hour, short, online course is also relevant for college lecturers, school teachers, tutors, trainers and other staff who are involved in the delivery of learning in schools, Further Education, community, voluntary and private training providers. It may also be attractive to you if you are a new member of teaching staff and wish to enhance your teaching practice by making effective use of digital resources.
The course provides you with opportunities to use digital teaching in your work with learners. You are not required to attend college. This is a solely distance learning course.
DATES AND TIMES
This course runs on the following dates:
25.10.18-13.12.18.
20.12.18-07.02.19.
14.02.19- 14.03.19.
21.03.19- 25.04.19.
02.05.19- 30.05.19.
There is a separate page on the website for each course date.
You are access to online tutor support 9am - 5pm Monday-Friday in College term time. Your tutor will normally reply to you within 24 hours.
Please Note:-
This course is free for City of Glasgow College staff.
Entry requirements
Minimum entry requirements
You must have current teaching, tutoring or mentoring experience (to any age group or level). This will not be arranged by the tutor team. If you do not have this experience, you will be unable to complete the assessment task and gain the City of Glasgow College Certificate in Supporting Digital Learning.
You are also expected to have the equivalent of the following:
Communication skills at SCQF level 5.
IT skills at level 5.
Problem solving skills at level 5.
What you study
You will engage with 20 hours of online, distance learning via our Virtual Learning Environment (VLE). There are regular course tasks and resources to interact with e.g. reading and videos. You do not submit your responses to these tasks, as they are to help you focus and reflect on your teaching practice.
This course includes the following areas:-
Digital tools to support digital learning.
Developing digital literacy.
Digital collaborative communities.
Social media.
Evaluating how you direct and guide students in the use of two digital tools.
After the course
Careers
You will have an opportunity to gain valuable continuing professional development in the use of digital learning resources.
This course is one of six short courses in a series. You can do one course only or several. They can be completed in any order.
Identifying Digital Needs.
Exploring Digital Resources.
Developing Digital Assessment.
Supporting Digital Learning.
Planning Digital Learning.
Developing Digital Teaching Skills.
This short course will also help College Lecturers develop the knowledge and skills that could lead into SQA's PDA Teaching Practice in Scotland's Colleges and the Teaching Qualification in Further Education (TQFE).
When you successfully complete this short course and assessment, you may carry this forward as part of the evidence you need for the Professional Development Award (PDA) Technology Enhanced Learning and Teaching.
Teaching
Assessment methods
You will be assessed by completing a final assignment at the end of the course. In this assignment, you will evaluate two digital tools that you used to support digital literacy. You will submit this on or before the last day of the course. You will receive feedback on this within 10 working days of submission. You are required to pass this in order to gain the City of Glasgow College Certificate in Supporting Digital Learning at SCQF level 8.
Alternative Dates and Times
Days(s)
Time
Dates
Duration
Duration
Course
Thursday

10:00

-

17:00

24th Oct 2019 - 21st Nov 2019
6 weeks
6 weeks
View »
Thursday

9:00

-

17:00

5th Dec 2019 - 16th Jan 2020
5 weeks
5 weeks
View »
Thursday

10:00

-

17:00

30th Jan 2020 - 27th Feb 2020
5 weeks
5 weeks
View »
Thursday

10:00

-

17:00

12th Mar 2020 - 23rd Apr 2020
5 weeks
5 weeks
View »
Thursday

10:00

-

17:00

7th May 2020 - 28th May 2020
5 weeks
5 weeks
View »
Mode of Study:




Part-time

Part-time

Start Date:




12th Sep 2019, 8 weeks

Day(s):

Thursday

Time:

10:00

-

17:00

Location:




External Site

Cost:




£ 52