Event Date:
Wednesday, March 6, 2019 - 09:00
to
Friday, March 15, 2019 - 15:00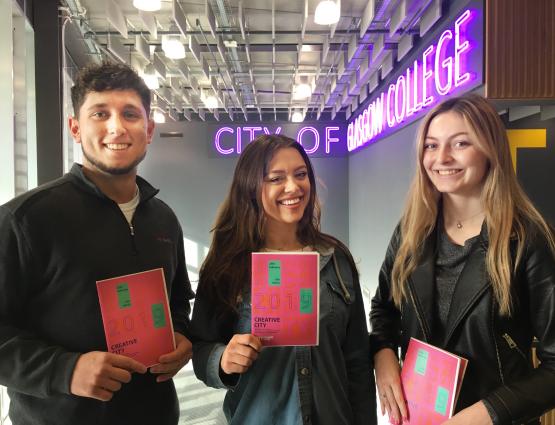 Media & Communications students launch Creative City 2019.
Location
City Campus
190 Cathedral Street
Creative City is a festival of art, drama, literature, music and much more from City of Glasgow College students, staff and guest performers.
This year's festival began with students promoting their events at City Campus – including CoGC Smash Grand Prix organised by a team of HNC Media and Communications students. This will see teams of players compete in an elimination tournament of the Nintendo video game, Super Smash Bros.
Other events to note are:-
City Lines where professional writing students present a night of prose and poetry - a chance to hear new work performed by some of Scotland's up and coming writers who will be joined by Scottish author, playwright and actor Alan Bisset.
A performance of 'After Juliet' by Sharman Macdonald exploring the world of the Capulets and Montagues after the deaths of Romeo and Juliet.
And so much more both on and off campus in various venues around Glasgow.
For full details of all events - where and how to book you can view the programme here.
The festival runs from 25 February until 15 March and this year builds on the success of previous years and is widely anticipated to be the biggest yet.