Event Date:
Tuesday, October 27, 2020 - 15:00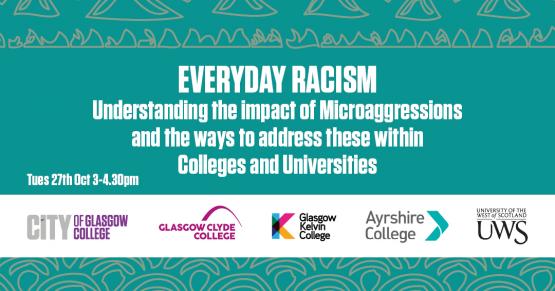 Location
We recently joined a number of other colleges and universities in Scotland in signing the sector-wide 'Declaration of anti-racism'. Now, for Black History Month, we've come together to start a journey of learning and taking actions so that all those working or studying in educational institutions in the West of Scotland have a positive, inclusive experience. Black History Month provides us with an opportunity to not only learn from the past but, to help build a better future.
We acknowledge that the day-to-day experiences of our BAME staff and students can be challenging. There is a significant underrepresentation of BAME staff in further and higher education particularly at senior levels of management. In addition to these measurable inequalities, the daily experience of marginalisation and Microaggressions remains deeply ingrained in culture. Positive change can only happen if we examine the whole further and higher education sector as well as our own institutions. Education must be part of the change we all need, to step up and stamp out prejudice, and to build diverse and supportive cultures of respect and fairness for all.
In this webinar, we will explore what is meant by 'Everyday Racism'; the Microaggressions at play, how these impact upon experience, and what we can all do to end this. The webinar will be a panel discussion with invited speakers and allow time for a Q and A.