Flexible Workforce Development Fund 2022 - Information Session
Event Date:
Tuesday, February 1, 2022 -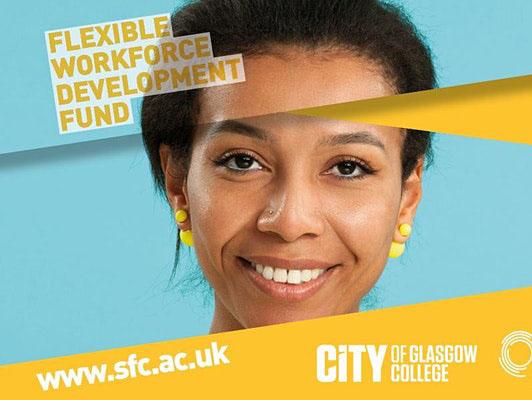 Location
Learn more about the Flexible Workforce Development Fund at City of Glasgow College, and how you can access funding to upskill your workforce.
About this event
Funded by the Scottish Government, the Flexible Workforce Development Fund (FWDF) is now open for applications for a fifth year. The FWDF is designed to help Scottish employers upskill and reskill their workforce, allowing them to address any areas of skills gaps, enhance their productivity and assist with handling the impact of the COVID-19 pandemic.
City of Glasgow College has worked with employers to deliver hundreds of courses to thousands of staff since the fund first launched in 2017, helping those businesses to upskill their staff and become more productive and resilient as a result.
In Year 5 the fund is open to a wide range of employers:
Employers based in or operating within Scotland who pay into the UK Apprenticeship Levy (employers with a wage bill of over £3m) can continue to access up to £15,000 for training.
Small to Medium Enterprise (SME) employers based in or operating within Scotland can also apply to the fund to access up to £5,000 for training.
This information session is intended for any employers interested in accessing the FWDF to upskill their workforce. It is a good opportunity to meet college staff involved with the delivery of the FWDF, pick up some additional information on funding and get answers to any questions.