Law Symposium: Restorative Justice
Event Date:
Wednesday, January 20, 2021 -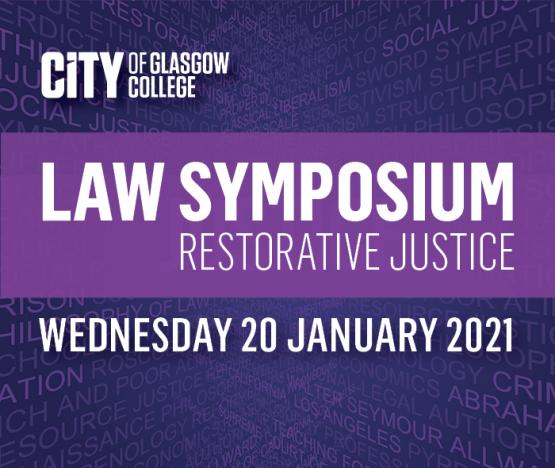 Location
City of Glasgow College, City Campus
190 Cathedral Street, G4 0RF
Law Symposium: Restorative Justice
Due to government guidance on large gatherings we are postponing the Law Symposium until Weds 20th January 2021.
Get in early and secure your place here.
The Scottish Government is committed to having restorative justice services widely available in Scotland by 2023.
Restorative or community justice aims to bring together both sides of crime, harm or conflict to help victims move on.
Some studies show it can reduce the fear of further victimisation and symptoms of post-traumatic stress in victims. Several studies have found evidence of a positive impact on reducing re-offending.
City of Glasgow College's inaugural law symposium will bring together a range of eminent academics and industry experts to explore how widely restorative justice is recognised in Scotland.
We will debate the potential challenges to its implementation and look at the bigger picture across Europe, to identify where Scotland sits in this landscape.
This one-day event includes a keynote speech by Humza Yousaf MSP, Cabinet Secretary for Justice. It will be hosted jointly with Sheriff David Mackie, one of Scotland's leading authorities on restorative justice and who facilitated a pilot case in 2019.
Guest speakers include Tim Chapman, Chair of the Board of the European Forum for Restorative Justice, and Dr Steve Kirkwood of Community Justice Scotland, who will also take part in a question and answer forum. Dr Kirkwood has conducted research on community justice in Scotland since 2005. Currently a senior lecturer in social work at the University of Edinburgh, he carries out original research on criminal justice, social work and related subjects.
Programme
10.00 - Welcome and Opening Remarks, Dr Paul K Little, Chief Executive and Principal, City of Glasgow College.
10.20 - Keynote Presentation, Humza Yousaf MSP, Cabinet Secretary for Justice.
10.45 - Scene setting by Sheriff David Mackie.
10.50 - Tim Chapman, Chair of the Board, European Forum for Restorative Justice.
11.20 - Karyn McCluskey, CEO, Community Justice Scotland.
12.15 - Lunch.
13.00 - In discussion. Sheriff David Mackie with Gus Grubb, Dean of Faculty Education and Humanities, City of Glasgow College.
13.30 - Looking at the potential challenges to the implementation of Restorative Justice in Scotland. Dr Steve Kirkwood, The University of Edinburgh; Kate Wallace, CEO, Victim Support Scotland; Joined by Tim Chapman.
14.30 - Closing discussions.
15.00 - Informal networking with refreshments.
If you work in Legal / Criminal Justice or are an academic with a particular interest or specialism in the field of restorative justice and would like to take part in this exciting symposium you can ​book your ticket here.
If you have any questions please contact our events team - events@cityofglasgowcollege.ac.uk.