Adaptive Technology wins TEDxGlasgow 2017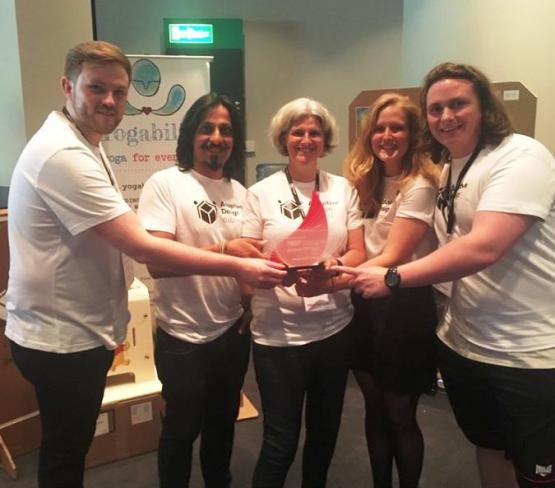 City of Glasgow College Board Member and Professor of Rehabilitation at Glasgow Caledonian University, Professor Tracey Howe, has won the inaugural TEDxGlasgow 2017 Award for her idea to create more accessible and affordable healthcare resources to support people with disabilities.
College staff and students are working with Tracey Howe, supporting the development, design and construction of assistive aids made from cardboard for children with disabilities. The range of products includes supported seating, standing frames, and spinal supports.
Professor Howe's goal is to create accessible and affordable assistive products to enable those in need to live productive, independent and dignified lives. She said:
"I am honoured to have won this inaugural award. My inspiration came from Adaptive Design Association, a social enterprise based in New York, which, for 15 years, has been producing low cost, adaptable furniture for children with disabilities.
"The technology we're talking about is triple corrugated cardboard put together with timber dowelling and PVA glue then waterproofed. It's a surprisingly strong and versatile material with the added advantage that cardboard is mass produced and inexpensive."
Douglas Morrison, STEM and Innovation Project Lead at City of Glasgow College, said:
"Professor Howe has created Adaptive Design Global with the aim of bringing adaptive technology to Scotland and developing a model in Glasgow which can be used globally. City of Glasgow College is helping her to achieve that goal, while the design and manufacture of the cardboard aids is an excellent learning opportunity for our students.
"Our college supported her entry to TEDx not only to raise awareness of the design but also link in to future entrepreneurs. We firmly believe that innovation is a driving force for positive change and encourage our students to continually come up with new ideas. Our Innovation Award 2016 is testament to that."
Adaptive Design Global aims to provide affordable assistive technology for children and older people with disabilities, and also for humanitarian purposes such as in the event of a natural disaster where supplies can be sent in cardboard boxes which have an Adaptive Design template so they can be quickly turned into assistive aids providing medical solutions.
You can watch Professor Tracey Howe's award winning pitch at TEDxGlasgow2017 here.