Agreement gives students a better voice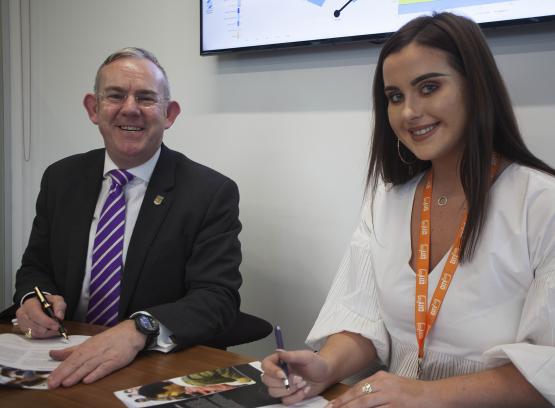 CoGC Student Partnership Agreement:Principal Paul Little, Student President Megan Cartwright
City of Glasgow College and its Students' Association have formally signed a new Student Partnership Agreement.
The Agreement sets out the priorities and principles for effective student engagement. It outlines how students are represented in the college both through the Students' Association and by their class representatives and highlights how any student can make a difference by putting forward an idea.
Paul Little, Principal and Chief Executive of City of Glasgow College, said:
"I am delighted to have formally signed our new Student Partnership Agreement together with Student President, Megan Cartwright, which officially endorses our strong ongoing relationship. The Agreement will enable student ideas to be turned into active projects that will lead to positive change for the college and all our students."
Megan Cartwright, Student President at City of Glasgow College, said:
"The Student Partnership Agreement is a huge thing for our college because it shows a firm commitment from both staff and students to work together to create tangible change, improve quality and make a difference. I feel really honoured to have contributed to this and I am so proud of what we have produced together so far and the hard work that has been put into it.
"There are no other Student Partnerships out there as innovative and unique as ours so we are, as usual, setting the bar high on quality here at City of Glasgow College. I am confident that this will change the way students and staff work together and I look forward to seeing the positive change being made in the future as a result of this."
The Agreement shows a shared passion for student representation, engagement and participation. Staff across the college have supported the process and will contribute to initiatives that come from a new digital democracy platform, MyVoice.
This online tool is being implemented by the Students' Association to help reach and interact more effectively with students, giving them a voice and making it easier to have their say on the issues that matter to them. The system ensures new initiatives are relevant and important to our students.