Cadets set to celebrate Merchant Navy Day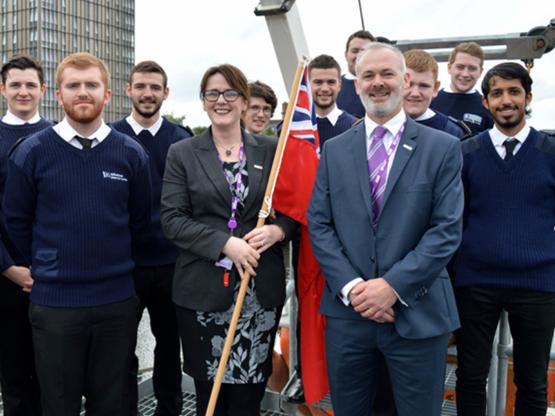 Cadets set to celebrate Merchant Navy Day
Staff and students at the college are busy preparing to commemorate Merchant Navy Memorial Day at Glasgow City Chambers on Thursday 3rd September.
Cadets from Scotland's premier maritime education training facility will take part in UK-wide celebrations being staged to honour "the brave men and women who kept our island nation afloat during both World Wars".
The college, one of the largest in Europe, currently provides training for approximately 450 new cadets each year and offers professional development courses for more than 1000 seafarers annually. It is set to officially open the completed first phase of its new £228million twin-site 'supercampus' development on the banks of the River Clyde next month.
On the day, Glasgow City Council fly the Red Ensign – the recognised flag of the British Merchant Navy since 1894 – over the city chambers for the first time.
Dr Nicola Crawford, Faculty Director of Nautical Studies at City of Glasgow College, said: "It is incredibly important that we take cadets to memorial events to remind them of the sacrifices that have been made by those before them. Many of the cadets have family members who have been part of the Merchant Navy so they are familiar with its history. Events like this serve to remind everyone that the Merchant Navy is more than just a job – it's an essential part of life.