City of Glasgow College achieve Charity Rice Challenge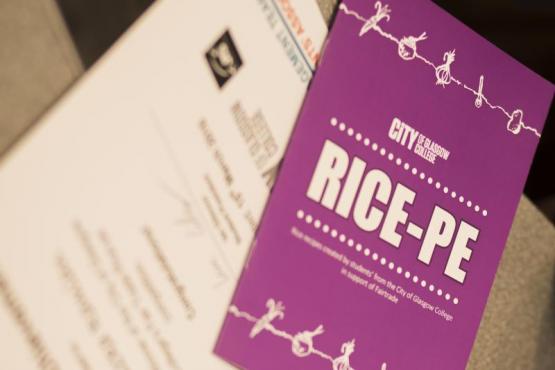 Rice Challenge 2016 - Rice-Pe Booklet
Students and staff at City of Glasgow College have successfully completed a 90kg Rice Challenge, raising almost £370 in the process.
90kg is the amount of rice that needs to be sold to enable a Malawian farmer pay for a year's basic secondary education for one child.
Student Engagement Officers from the College organised the fundraising activity with the help of Cookery, ESOL, Events, NC Advertisement, and Design students, along with Curriculum Heads.
Robert Scullion, Student Engagement Officer, explained:
"We decided to develop a recipe (rice-pe) booklet featuring three cost effective recipes that used rice as the main ingredient. Our Cookery and ESOL students transferred their course skills to this live project submitting entries for the recipes and helping design the booklet.
"NC Advertisement students promoted the Challenge by creating digital signage for the College's plasma screens as well as an embedded image that was used to email all staff and students to raise awareness of the initiative. One hundred copies of the rice-pe booklet were printed, and distributed by the Events students to everyone who bought rice."
"The 90kg Rice Challenge was successfully completed in just four days and raised a total of £369.99. It was a privilege to be part of such an inspiring event. The most rewarding part was seeing how generous our students and staff were on the days we sold the rice and our thanks go to everyone who took part."
JTS (Just Trading Scotland) organises the 90kg Rice Challenge. They are a Scottish based charity and fair trade organisation that facilitate the import and distribution of fairly traded products to the UK.
John Riches, Chair of JTS, was the special guest at a Fair Trade award ceremony held to celebrate the students' outstanding achievements and the support given by all those who took part in the Challenge.
Special mention goes to Chris Action and Bernadette Mackellaig, Professional Cookery; Adeleh Bahram Monajami, ESOL; Daisy Williams, Advertising; Agnieszka Ramian, Design; and Events volunteers Natalie Frew, Albana Mustafa and Yasher Mohammed.