City of Glasgow College celebrates Equality, Diversity & Inclusiveness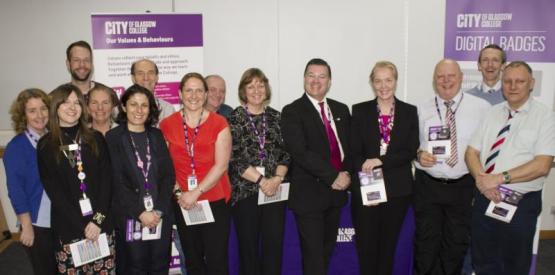 Digital Badge Supporters
City of Glasgow College is the first of Scotland's colleges to support staff development with the introduction of Open, or Digital Badges. The Digital Badge initiative supports the development of positive behaviours and recognises staff for their every-day contribution and commitment to continuously developing both themselves and students.
The college launched the scheme in December 2015 with a Digital Badge for Equality, Diversity & Inclusiveness (ED&I) and since then over 100 members of staff have completed the required criteria and achieved a Digital Badge for (ED&I).
Alex Craig, Depute Principal, presented the first Digital Badges at two special ceremonies held on Friday 19 February, and said: "The Digital Badge themes support our College values and behaviours. As a Next Generation College we value and advance Equality, Diversity & Inclusiveness for everyone, so it is right that the scheme launched with this particular badge."
Graeme Brewster, ED&I Manager, said: "The overwhelming response demonstrates that an ever growing number of staff appreciate that effectively committing to and managing ED&I results in real people benefits, improved corporate performance and an enhanced reputation."
For those who collected their Digital Badge for ED&I, it was about supporting those values:
David Smith, Senior Lecturer in Events Management: "It's good to be recognised for what I do in practice. The module focuses you on delivering ED&I in the class."
Vanessa Telfer, Senior Lecturer: Equality, Diversity & Inclusiveness is central to what we do on a daily basis. It's about setting an example and demonstrating ED&I."
Brian Ahern, Health &Safety Manager: "I did it straight away. It's a great idea. Makes it more real for people to take action and be positive."
To achieve an ED&I Digital Badge staff must complete an online module, update their equalities information, and pledge to become an ED&I Champion. A "prefer not to say" option is available when completing equalities information. However, staff are encouraged to provide their confidential information, if they feel able, as accurate data is essential in order to identify good practice and tackle issues.