City of Glasgow College delivers for Britain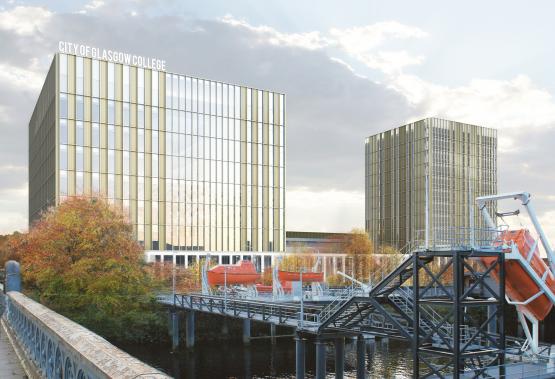 City of Glasgow College's Riverside campus has been prominently featured in an ITN documentary for the UK Chamber of Shipping – Delivering for Britain.

The maritime campus was described by the programme makers as "a hi-tech, hands-on launching place for careers at sea."
The documentary showcases the college's state of the art campus and the benefits of studying with a highly professional team of staff and technologically advanced facilities – five years ahead of industry.
Principal and Chief Executive, Paul Little, said:
"The UK Chamber of Shipping's Chief Executive, Guy Platten, is a strong supporter of our college and impressed that, since Brexit, shipping may be in unchartered waters, but the industry will thrive whatever the result of EU negotiation which is good news for our Nautical Faculty.
"I wholeheartedly agree and, of course, that industry will need to be staffed from engine room to bridge and where better to deliver the training than from us here in Glasgow.
"Our College was also recently highlighted as "the global leader for maritime education" by EFQM's Chief Executive, a wholeheartedly resounding endorsement of our World Class professional educational and technical offering."
Delivering for Britain is the second film produced in collaboration with ITV and outlines the work of the UK Chamber of Shipping in championing the interests of the UK shipping industry on behalf of its members, as well as exploring the impact of Brexit on the sector and the wider UK economy.
The feature about the college's Riverside campus can be viewed here where you can also watch the full documentary.