City of Glasgow College recognised for National Award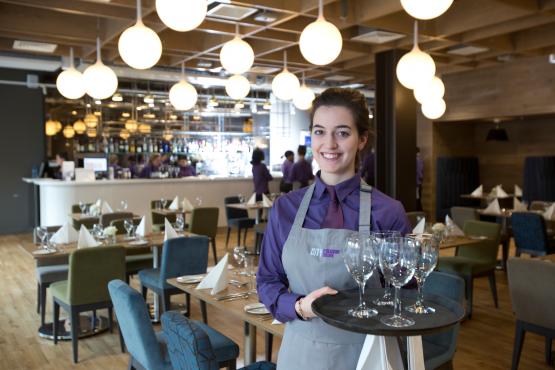 An innovative consortium approach by Glasgow's colleges and local authority partners is in the running for an Inspiring City Award.
City of Glasgow College, Glasgow Clyde College and lead partner, Glasgow Kelvin College, run the Glasgow Foundation Apprenticeship Programme together with the three local authorities of Glasgow, East Renfrewshire and East Dunbartonshire.
The team has been shortlisted in the Industry and Young People Innovation Award category.
Principal and Chief Executive of City of Glasgow College, Paul Little, who has also been shortlisted for Outstanding Contribution by a Business Leader, said:
"I am delighted that our college, together with Glasgow Kelvin and Glasgow Clyde, has been shortlisted for this prestigious award. It firmly endorses the benefits of what is an extremely effective partnership, but it also highlights the success of a programme that is creating opportunities for young people, providing them with industry-relevant qualifications and experience that gives them a competitive advantage."
The Foundation Apprenticeship is a two-year programme aimed at senior school pupils. It provides college and workplace based learning and qualifications in a wide range of vocational skills whilst the young people are still attending school. They develop a wider grasp of workplace skills, a more realistic approach to their chosen skill area, improved confidence and level 3 or 4 qualifications which can propel them straight onto HNC level learning or into a formal apprenticeship.
Key to its success is the close link with schools and employers whose input has been crucial. The programme has expanded in the last year with more vocational areas added and up to 250 young people are expected to benefit in 2017/18.
Foundation Apprenticeships have been developed by Skills Development Scotland and its Head of Foundation and Graduate level Apprenticeships, Diane Greenlees, said:
"The Glasgow Colleges have been forward thinking in their adoption of a regional approach to the Foundation Apprenticeship offer. It ensures delivery is coordinated across the city and enables a collective presentation to schools and other partners. We look forward to further strong partnership working as we seek to expand and embed Foundation Apprenticeships across Scotland."
The Inspiring City Awards, organised by The Herald and Glasgow Chamber of Commerce, recognise individuals, businesses and organisations that have gone above and beyond to encourage, mentor and support investment and growth in Glasgow. They will be presented at a gala evening on Thursday 7 September at the DoubleTree by Hilton in Glasgow.