City of Glasgow College represents Scotland at International Cookery Competition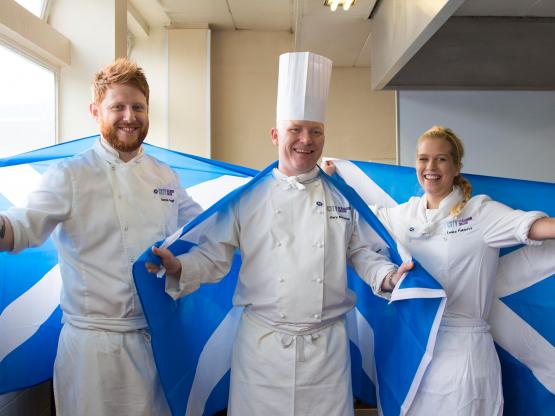 City of Glasgow College represents Scotland at International Cookery Competition
City of Glasgow College beat off stiff competition from colleges across the country to become Team Scotland for a second time at the prestigious Nations Cup International Student Culinary Competition.
The college will defend the title they won in 2013 in the biennial Nations Cup, a three-day international cooking competition hosted in Michigan by Grand Rapids Community College's Secchia Institute for Culinary Education.
Chef Senior Lecturer, Gary Maclean, together with Lenka Faksoba and Darren Seggie make up Team Scotland. They will join student teams from Canada, Italy, Mexico, Barbados and hosts, USA, on 22-24 October when they hope to repeat their previous success.
The Nation's Cup was created in 2005 in the spirit of supporting professional and cultural learning for tomorrow's chefs. Over the course of two days competitors are given six boxes with mystery ingredients which they must use to plan, prepare and plate gourmet dishes within a limited amount of time and under the watchful gaze of judges.
Gary, who led the team in the 2013 competition, said: "This is a great honour for us and the college. Lenka and Darren are both very talented students and they have the essential ingredients for an outstanding team as they are committed, work very well together and want to learn."
Lenka and Darren are both studying for an HND in Professional Cookery. Lenka came over to Scotland five years ago from the Czech Republic. She works at the Hilton Hotel as a Commis Chef and hopes one day to have her own restaurant. Darren, from Blairgowrie in Perthshire, wants to teach and compliments his learning experience at the renowned Stravaigin Restaurant in Glasgow's west end.
Gary has been teaching at the college for 18 years and recently won the Chef Lecturer category at the Craft Guild of Chef Awards in the summer. He added: "We were the first European college to win the Nations Cup and to enter again we had to win two separate competitions against all the colleges in Scotland. City of Glasgow College is undoubtedly one of best college competition team in the UK. We are the team to beat."