City of Glasgow College a Showcase for Excellence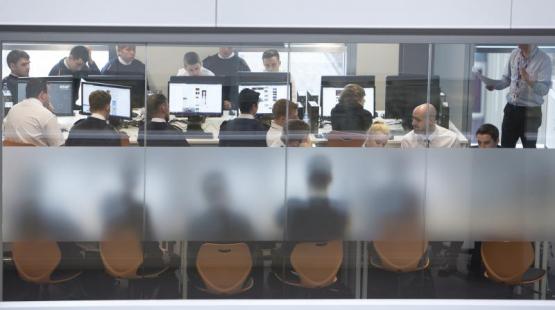 City of Glasgow College Showcase of Excellence
City of Glasgow College has been awarded top marks for delivering effective learning and teaching.
Education Scotland – the public body charged with supporting quality and improvement in Scottish education - has given the College an Overarching Judgement of Effectiveness following its recent Review.
The Judgement means that the College is well led with successful and high quality measures that enhance the quality of its provision and improve the life chances of students.
City of Glasgow College Principal and Chief Executive, Paul Little, said:
"This is an exemplary result and our staff should be congratulated as their consistently high standards of teaching and support alongside their commitment to inspiration, excellence and innovation right across the College has resulted in a 'best in class' commendation. It is particularly pleasing to hear also that our students are flourishing and that they really enjoy studying with us.
"Significantly, our College has been recognised for an unprecedented four examples of Role Modelling Excellence. I truly believe that City of Glasgow College is redefining college education and indeed is raising the bar extremely high."
Several areas were identified as Showcases of Excellence including the College's outstanding success in WorldSkills competitions which has earned it the UK Number One ranking. The report pointed to these experiences being highly valued by students. Its Industry Academy model was also commended for increasing the number of work placements and experiences, guaranteed interviews, range of industry-based ventures and apprenticeship opportunities.
Highlights from the Education Scotland report include:-
• Students successfully completing their programme are well above sector performance levels and numbers continue to grow
• Over 90% of our successful students' progress directly to further learning, apprenticeships, or employment. In fact, over 1,000 students progress each to degree level study at university
• Over 90% of our students are well-motivated and participate productively during lessons
• Over 90% also describe a sense of pride in being part of the College and enjoy mutual, respectful and productive relationships with College staff
• There is a positive culture of performance and quality improvement in the College and a clear commitment to improving the learning experience by all staff
• Support staff work very effectively together to review and improve services to meet student needs
• The number of early withdrawals for students on full-time programmes has improved and is now better than the national sector performance.
Areas of improvement were noted as better teacher self-reflection and staff challenging poor student time keeping. City of Glasgow College has started work to develop a detailed action plan.