City of Glasgow College strengthens partnership with Brazil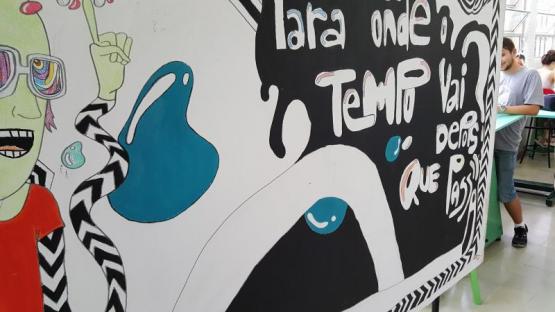 IFSul, Pelotas Campus - Design Students Art Work
City of Glasgow College was one of five UK colleges which recently took part in an international programme that enabled them to share best practice with Brazilian professional and technical education institutions.
The UK-Brazil Senior Leadership Team Shadowing Programme, established in 2014, also supports the development of skills sectors in the UK and Brazil. The project was co-ordinated by the UK Foreign and Commonwealth Office and the Association of Colleges.
Stuart McDowall, Partnership Development & Academy Manager at the College, described the opportunities and benefits the initiative offers:
"We saw round the Instituto Federal Sul-Rio-Grandense (IFSul) in the City of Pelotas, which is Brazil's third most populous city in the southern state of Rio Grande do Sul," explained Stuart.
"Meeting senior colleagues and talking with lecturing staff and students gave us a good insight to their educational experiences. We learned how the Brazilian VET (Federal Vocational Education Network, Science and Technology) system operates, and discussed the challenges and opportunities that our Brazilian colleagues face within the sector.
"Programmes likes this one reinforce City of Glasgow College's international partnerships and this particular visit strengthens our relationship with a leading vocational institute in Brazil. We look forward to future collaborations on student and staff mobility, and learning and teaching, as this alliance will be beneficial for staff and students in both our countries."