City of Glasgow College student triumphs at national competition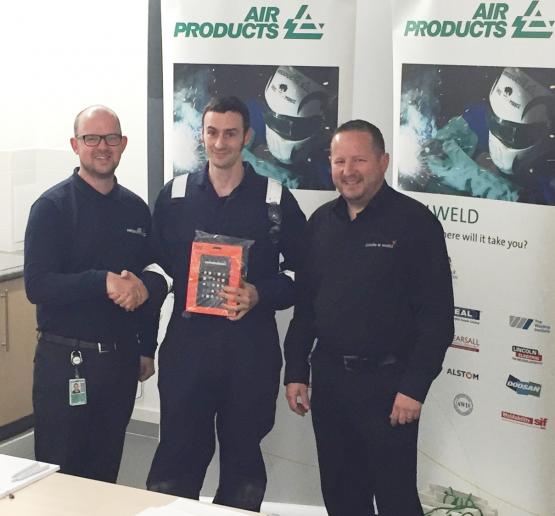 L-R Kevin Sherry (Air Products) Shaw Swanney (City of Glasgow College) Clive Slocombe (Code A Weld)
A talented welder from Orkney, Shawn Swanney, is one step closer to being crowned SkillWeld 2016 champion, following his win at the Scottish semi-final of the national welding skills competition.
A Marine Engineering student, Shawn is training with the WorldSkills Academy at the college and, thanks to this win, he now goes through to the next stage of the competition and is in the running for a place in the national final.
SkillWeld 2016 is the UK's most prestigious, national welder competition. Shawn and the other semi-finalists had to complete four timed tests marked by judges who examined the skill level of participants' fabrication and welding ability in three different welding processes.
SkillWeld will invite the top ten highest scoring competitors from across the country to attend the national final.
Shawn was delighted to take first place in the semi-final:
"I enjoyed competing in the competition and furthering my skills in welding, and would recommend taking part in these competitions. I look forward to the possibility of competing in the national final, challenging my skills against other finalists from the UK."
Kevin Sherry, UK and Ireland Lead Application Specialist at Air Products – official competition sponsor of The Skills Show, said:
"Up and down the country are talented welders who make an important contribution in a challenging manufacturing environment. They're a great asset to many UK industries and will continue to play an important role as the energy market continues to expand. Shawn showed great skill and I'm sure he will go on to be a great competitor in the SkillWeld final."
The top ten competitors from the SkillWeld regional semi-finals will be invited to take part in the SkillWeld national final, which will be held at The Skills Show, at the NEC Birmingham between 17-19 November.
The annual SkillWeld competition is aimed at any welder undergoing training in the welding industry, at an advanced or higher level. It tests their skills in three core welding processes: Manual Metal Arc (MMA), Metal Active Gas (MAG) and Tungsten Inert Gas (TIG). The competition is backed by leaders from across the welding, skills and manufacturing industries, and now forms part of WorldSkills UK.