City of Glasgow College Wins Big at CDN Awards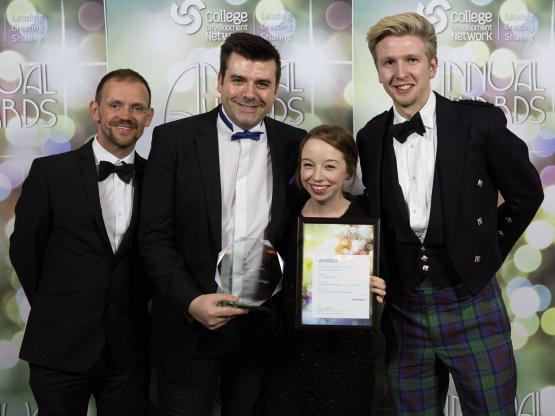 City of Glasgow College Wins Big at CDN Awards
City of Glasgow College has scooped two premier College Development Network (CDN) awards at this year's event.
The CDN awards ceremony, held in Glasgow recently, consisted of eight categories in all with City of Glasgow a finalist for Employer Engagement and Equality, Diversity & Inclusion awards.
The awards recognise the talent, skills and achievements of colleges, their staff and learners; and provide a valuable opportunity to celebrate outstanding projects and initiatives taking place in colleges the length and breadth of Scotland.
The Employer Engagement Award recognises creative approaches taken to enhance engagement to support Developing the Young Workforce initiative. City of Glasgow's Industry Academy Model was held up as exemplary.
The College's Industry Academy model enables innovative collaborations with industry and employers. It develops fit for purpose curriculum and identifies sustainable employment opportunities.
The College was also the successful recipient of the Equality, Diversity & Inclusion (ED&I) Award which recognises and celebrates innovation, excellence, creativity and commitment to equality, diversity and inclusion by colleges: their staff, students and partners. ED&I is central to the College and at the heart of the College's Diversity & Equalities Strategy, 2013-2017.
City of Glasgow College Principal Paul Little said:
"Congratulations to our winners – this is another great recognition of the excellent practice and educational resources across our College. The awards also give us a great opportunity to showcase the world class work we are doing and to share our experiences with colleagues across the nation."
CDN supports the sector to deliver best practice through a vision of Leading, Creating and Sharing.