College partnership keeps CalMac apprentices in Scotland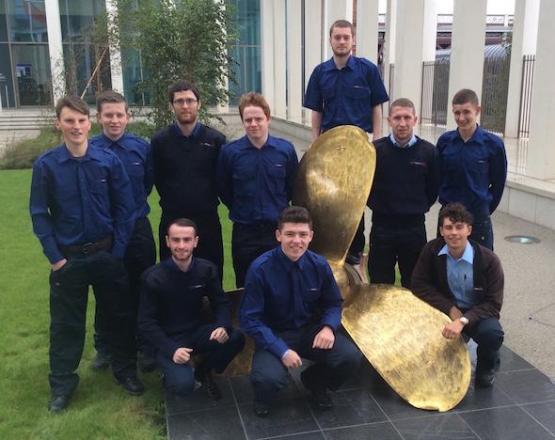 CalMac Modern Apprentices start at City of Glasgow College
A new partnership between City of Glasgow College and CalMac means the ferry operator's engineering and deck apprentices will all now be trained in Scotland.
Previously, the 10 Modern Apprentices currently taken on every year had to travel to South Shields Marine College near Newcastle for the desk based part of their training.
The new agreement with the college's Faculty of Nautical Studies allows the apprentices to study closer to home as they work towards their SQA level 5 in Maritime Studies.
CalMac's Director of Human Resources, Christine Roberts, said:
"I am delighted to welcome our latest batch of apprentices and look forward to building a strong relationship with City of Glasgow College.
"Not only is it a world class facility at Riverside Campus, it will also be significantly more convenient for apprentices going home at weekends, something that was just not practical with our previous training provider.
"As part of our winning bid to run the Clyde and Hebrides ferry service contract we committed to increasing the numbers of Modern Apprentices we employ, and our association with the college is an important step towards helping us achieve this."
Angus Ferguson, Curriculum Head (Nautical), City of Glasgow College, said:
"City of Glasgow College is the only the college in Scotland offering a Modern Apprenticeship for Deck and Engineering Ratings. We are proud to be partnering CalMac in this project which will enhance the maritime skills base in Scotland.
"The state of the art facilities at our Riverside campus, including Scotland's only 360 degree shipping simulation suite and one of UK's most modern working ships engine rooms, have allowed us to develop this course which trains our students in vital skills that will benefit communities and the local economy."
The current intake of six deck ratings and four engineering will spend an initial four weeks in Glasgow before joining a vessel for on the job training.
Modern Apprentice, Cameron MacCuish from Oban, said:
"A Modern Apprenticeship gives the best of both worlds with on-the-job training and college qualifications, that's what attracted me to it. I'm really looking forward to the course. It's an excellent first step towards building a long career and CalMac is great company to start with."