College partnership supports RTS Scotland Awards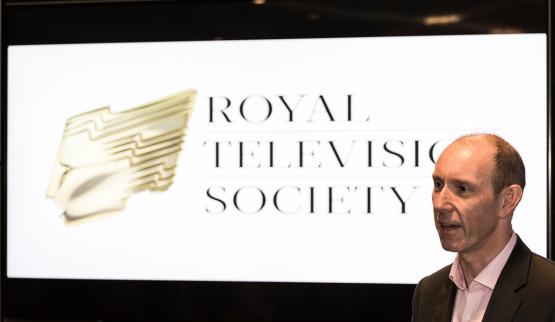 CoGC Industry Academy Curriculum Head and RTS Scotland Chair, James Wilson - photo credit Paul Reich
Students from City of Glasgow College supported this year's RTS (Royal Television Society) Scotland awards held at the end of May in Glasgow's Oran Mor.
James Wilson is Faculty Director for Creative Industries at the College and also Chair of RTS Scotland. He said:
"Our media students have been working with RTS Scotland since 2012 as part of their college work experience. The partnership helps develop their skills while they learn more about elements of their chosen profession."
The students are able to put the skills learned at college into practise by supporting RTS events. Activities range from filming and recording by TV students, photography students capturing high quality images, graphic design students creating award programmes, or event reporting by student journalists.
Cheryl Strong, who organised this year's RTS Scotland Awards, said:
"The relationship between RTS Scotland and City of Glasgow College students benefits everyone involved. The students play a vital role in supporting us with a range of their skills. Their contribution is evident on the night and is welcomed and embraced by the industry. We are able to provide an opportunity for each individual to prove their ability and it's rewarding to witness them rise to the challenge."
Bobby Hain, STV Director of Channels and Awards Committee Chair, added:
"The contribution of City of Glasgow college students to the success of the Royal Television Scotland Awards has been significant. I'm grateful to the college and students involved for their commitment and participation."
The full cast of students involved in the RTS Scotland Awards Ceremony includes:
Film crew: Andrew Syme, Cameron Chapman and Nicole Sartain
RTS Interns: Amy Mackinnon and Bethany Miller
Photography: Chloe MacLeod and Paul Reich
Brochure Design: Matt Parris and Scott Russell
Journalists: Rachael McAlonan, Rhiannon Melrose (who penned this piece) and Sarah Stirling
The event was attended by almost 300 people and was hosted by BBC Scotland presenter, Catriona Shearer, and comedian, writer and actor, Sanjeev Kohli.