College Principal honoured by The Nautical Institute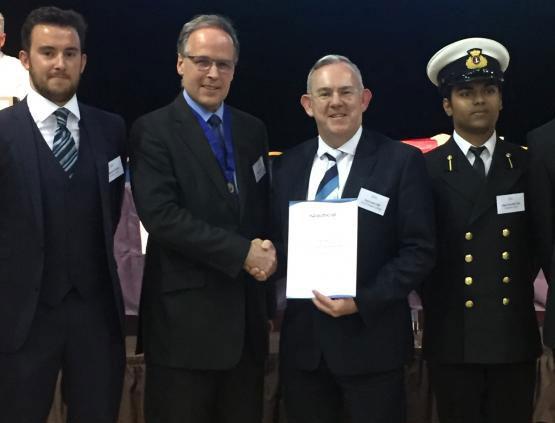 City of Glasgow College Principal & Chief Executive, Paul Little receiving Fellow from The Nautical Institute
City of Glasgow College Principal and Chief Executive, Paul Little, has been made a Fellow of The Nautical Institute, in recognition of the major impact the College is having on maritime education and training.
Mr Little was formally presented with his Certificate of Fellowship at the Nautical Institute's Scottish Annual General Meeting held recently in Aberdeen, and said:
"I am very proud to accept the Fellowship on behalf of City of Glasgow College. While this is undoubtedly a personal honour for me, it is equally an award that recognises the impact our College is having on maritime education and training across the UK and beyond. It endorses our ambition to lead the global maritime college community and is very much a collective pat on all our backs."
The Principal played a strategic role in the successful multiple college merger which formed City of Glasgow College. He was nominated for the Fellowship because of his highly successful career in education combined with a very practical and voluntary 30 year role with HM Coastguard that included qualifying as a Coxswain and Rescue Officer.
The Fellowship is the highest membership category of the Institute and is granted on nomination and election by the individual's peers. It is awarded to those who have made a significant contribution to nautical science, the nautical profession and/or the objectives of the Institute.