College publishes findings on gender equality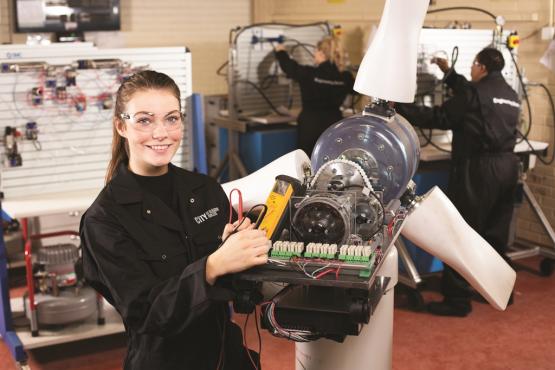 City of Glasgow College and EQUATE Scotland have published results of a project looking into gender equality issues within the engineering sector.
A celebratory event held on Thursday 19 January marked the conclusion of the three year Women in Engineering project which worked to create a shift in engineering in Scotland by supporting and challenging employers, developing skills and providing work placements for female engineering students.
Paul Little, Principal and Chief Executive of City of Glasgow College, said:
"The Women in Engineering project identified some of the key barriers to embedding Equality, Diversity and Inclusion within the workplace and, perhaps more importantly, provides solutions that could make a real difference to plugging leaks in the talent pipeline if applied in practice within STEM sector organisations.
"Staff from our Faculty of Engineering, Building and Energy carried out a study of employer engagement in gender equality issues which show that SME's have varying levels of commitment and aspirations in relation to gender equality. The findings make for interesting reading and underline our on-going commitment to gender equality and cement our College's place as an International Centre of STEM Excellence."
EQUATE Scotland launched their Women in Engineering Employers' Best Practice Guide which provides comprehensive analysis of what works best in terms of gender equality within engineering.
Talat Yaqoob, Director of EQUATE Scotland, said:
"Over the last three years Equate Scotland has worked in-depth with the engineering sector in Scotland and our Best Practice Guide is a culmination of what has been learned from the project. It has been developed from evidence and input from employers and its aim is to act as inspiration and a call to action for employers.
"There is no shortage of ambition, interest and intellect in women and girls across Scotland, but we must eradicate the barriers that prevent women and girls from entering engineering, not only for the sake of their ambition and intellect but also for the sake of Scotland's economic growth.
"Scotland needs 120,000 more engineers by 2020; this guide is to support employers to reach that target by increasing the number of women in the growing field."
Douglas Morrison, Curriculum Head STEM Industry Academies at City of Glasgow College, said:
"Our research findings are published in Gender Equality: A Self-Assessment Toolkit for Engineering which aims to support employers in identifying and implementing positive changes in the workplace. It will lead to valuable benchmarking data that will help policy makers, industry influencers, employers and educators develop targeted interventional strategies to tackle the gender imbalance in engineering."
The research findings are available at EQUATE Scotland.