College stonemason takes top honour at city craft competition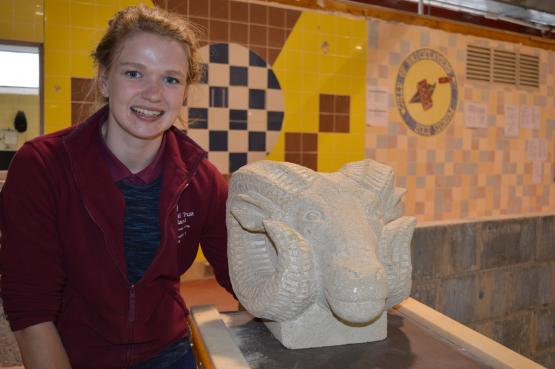 City of Glasgow College Stonemasonry student, Karen Gemmell
A City of Glasgow College student has sculpted a sandstone masterpiece which has won her plaudits and prizes at a city craft competition contested by hundreds of Glasgow students.
Karen Gemmell, from Mauchline, crafted a ram's head sculpture as an entry for the annual Craftex competition, which provides a showcase for the very best work of students from Glasgow's three colleges. The panel of judges named Karen winner in the Stonemasonry – Advanced category of the competition.
The former Auchinleck Academy pupil, who studies the stonemasonry course at City of Glasgow College as part of an apprenticeship with The National Trust for Scotland at Culzean Castle, said she drew inspiration from her farming background to create the award-winning ram's head.
She said: "I certainly didn't expect to win the competition, but receiving this award has given me a real boost and it's nice to be able to do something well enough that you're recognised for it.
"I had initially planned to sculpt a bull's head, but I liked the challenge of creating the horns on a ram's head and set about drawing and researching my design."
Twenty-three-year-old Karen, who will complete her apprenticeship with The National Trust for Scotland in 2018, added: "Producing this piece has been a big learning curve for me, but I'm generally happy with how it has turned out. I have had to use my tools in a different way than on most projects, and, where stonemasonry is normally about structure and precision, this has been more about freehand work and judging the look by eye."
City of Glasgow College lecturer, Anthony Cameron, hopes that students like Karen can go from strength to strength when the stonemasonry classes, along with many other courses, move to the College's new City Campus in August.
He said: "Karen has excelled on the course here at City of Glasgow College and has been top of the class. Her production of the ram's head was time-consuming, but what an effort. The skill involved in sculpting the piece is fantastic.
"Karen and her classmates will benefit greatly from the new City Campus, which already looks amazing and will contain advanced technology within a student-friendly learning environment. Everyone at the college is looking forward to the big move this summer."