College student awarded grant from John Mather Trust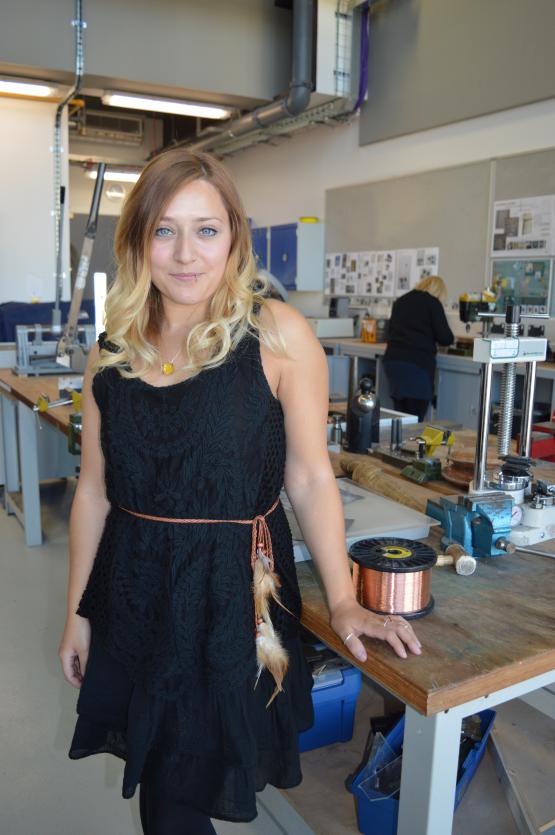 A City of Glasgow College HND Jewellery student has been awarded funding of almost £5,000 to help expand her jewellery business.
Stevie Adams started her business, Indigo Aana, three years ago. A successful application to the John Mather Trust resulted in a grant of £4,570 which the entrepreneur will use to purchase a 3D printer to help bring to life concepts that cannot be achieved by hand-manufacturing.
Stevie said: "I hope the funding can take my business to the next level and help it evolve with new designs and by launching a new collection. I am aiming to create a men's line; tie pins, cufflinks and rings, and to encourage men to wear brooches. Using the 3D printer, I will try to entice men to purchase new products.
"At the moment, I am combining my business with full-time study in HND Jewellery at City of Glasgow College, where I've learned everything I know about making jewellery. The lecturers are really helpful and supportive and push you to be your best, think ahead of the game, and find out where your strengths are and what you can improve on."
Stevie named her business in honour of her grandmother, Anna, who passed away three years ago, shortly before her grand-daughter founded Indigo Aana.
"I like to have personality coming across in my designs, whereas most professional jewellers tend to produce quite clean pieces. My work is a little unusual and different, and I like to mix precious and non-precious materials, such as resin with silver. It was fun and playful at the start, and my current designs remain quite colourful."
Rachel Pooley, Careers Advisor at City of Glasgow College, said:
"The funding from the John Mather Trust was open to all students at the college and Stevie was one of 20 to submit business plans. Along with several other students, she spent a weekend away doing personal and business development and two full days' training by Princes Trust and marketing training.
"Her detailed business plan and video pitch impressed the judges to the extent that she has been awarded this money to help her already-exciting business evolve even more."