College students test BBC online education resources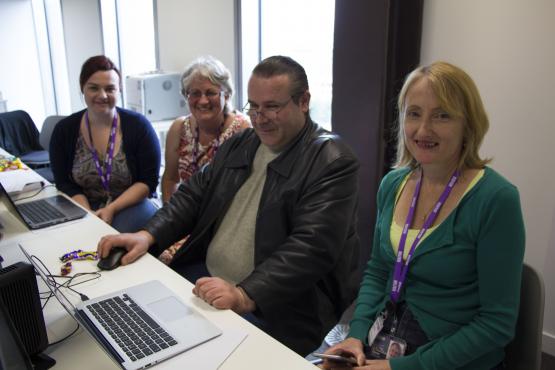 College students test BBC online education resources
Students at City of Glasgow College are helping BBC Learning to develop their online learning resources for adults. The new interactive content will form part of BBC Bitesize, the BBC's support for formal education outside the classroom.
The students, who are studying a range of Basic Skills and Employability courses at the college, are reviewing English and maths prototypes currently being developed by BBC Learning and BBC Design & Engineering.
Diane Gardner, Senior Lecturer ALN and Community at City of Glasgow College said:
"I am over the moon that our students are helping BBC Learning as part of their user-centred design process. City of Glasgow College has worked with the BBC's education department for a number of years and our students and staff enjoy and benefit enormously from this relationship. It is this connection which brought us to the attention of BBC Learning's Bitesize team who will be working with us over the next six months as they develop their online resources."
Oonagh Jaquest, Editor Bitesize Post-16, BBC Learning, said:
"It's vital that learners find the BBC's educational resources to be of real value to their studies. That's why we test interactive features and content with real students and we listen to their feedback. The content we are developing at the moment will combine video and interactive activities in a modular format to support adults studying vocational English and Maths across the UK. We are really grateful to City of Glasgow College for enabling us to work closely with their students, helping us to make sure that BBC Bitesize continues to be such an essential resource for learners of all ages."