College Training benefits Chinese Partnership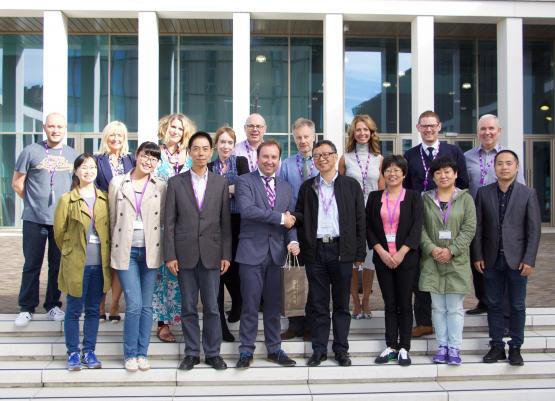 City of Glasgow College, ZJTIE Teacher Training
City of Glasgow College recently welcomed senior officials and lecturing colleagues from China's Zhejiang Technical Institute of Economics (ZJTIE).
The group were over to attend a Teacher Training programme set up by City of Glasgow College to support lecturers in Supply Chain and Logistics.
Hosted by the College's Teacher Training Industry Academy, the Chinese delegation took part in a busy timetable of classroom lectures, English language and citizenship activities, as well as cultural visits.
Stuart McDowall, Partnership Development & Academy Manager, City of Glasgow College, said:
"This programme develops our ongoing relationship with ZJTIE, and builds on an important partnership agreement to send City of Glasgow College lecturing teams to China to deliver bespoke Supply Chain courses to their students."
Mr Wang Ziqin, Director of Logistics Technology at ZJTIE, said:
"The training has been really helpful and very fruitful, full of great content and efficiently organised. It will be an important addition to our future work."
The group shared their experiences of delivering Supply Chain and Logistic programmes at their Institute in Hangzhou, and also took the chance to compare techniques against the College's City Learning model.
The comprehensive Teacher Training programme also covered Personal Development Planning and included sessions on understanding how City of Glasgow College delivers its Chartered Institute of Purchasing and Supply (CIPS) and other supply chain related courses.
City of Glasgow College's Teacher Training programme can offer enormous benefits to teaching teams. For more information on how the College can support your learning and teaching please contact Stuart McDowall.