CONGRATULATIONS TO RIBA STIRLING PRIZE WINNER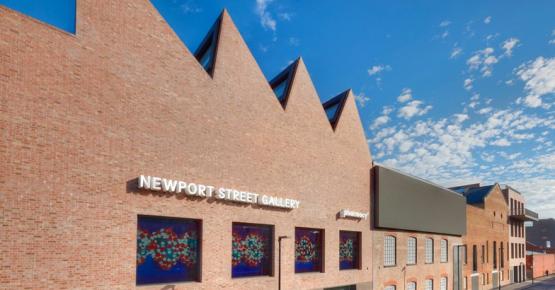 City of Glasgow College is delighted to congratulate the Newport Street Gallery in London – winner of the RIBA Stirling Prize 2016. The London gallery was built to house the private art collection of artist Damien Hirst.
UK architecture's highest accolade, the Stirling Prize is awarded to the architects of the building that has made the greatest contribution to the evolution of architecture in the past year.
City of Glasgow College Principal and Chief Executive Paul Little said:
"Congratulations to Newport Street Gallery on winning this year's Stirling Prize, it is a splendid building. Our amazing team of architects, staff, students and Glasgow communities are very proud that our Riverside campus made it to the short-list. It's not always the case that colleges find themselves on such illustrious finalist lists and it has been a wonderful experience for all of us.
"Our college motto is clear - to 'Let Learning Flourish' - and our home and international students are already thriving in their new learning environment. I'm sure that our maritime campus will continue to inspire and wow many generations to come."
In a joint statement, Brendan Diamond (Michael Laird Architects) and Lyle Chrystie (Reiach and Hall Architects) said:
"Congratulations to Caruso St John Architects. Their project is beautiful.
"We were honoured to be included on the shortlist with such esteemed company, and have really enjoyed the process. It has been especially rewarding to take part in the wider discussions this award generates. We were extremely lucky to have a highly engaged and collaborative client group whose energy and commitment to the project went substantially beyond professional obligation. Hopefully our combined contribution to Glasgow will become a valued and loved part of the city.
Riverside campus was described as "a new landmark to delight and draw in visitors, improve education potential, and increase civic pride" by the Prize's organisers. It has won a remarkable seven architectural awards since it opened in August 2015:
Glasgow Institute of Architects – Education Building of the Year
RIAS Award
RIBA National Award
RICS Award – Design though Innovation Award
Scottish Design Award - Public Building of the Year Award
Scottish Design Award – Architecture Grand Prix
Scottish Property Awards – Architectural Excellence Award
It is currently shortlisted for the British Construction Industry Awards (BCI Awards) in caterings: Building Project of the Year; Prime Minister's Better Public Building Award; and Health, Safety & Wellbeing 2016; the RIAS Andrew Doolan Best Building in Scotland Award, and Building Awards 2016, Building Magazine Project of the Year.