Construction milestone for City of Glasgow College 'supercampus'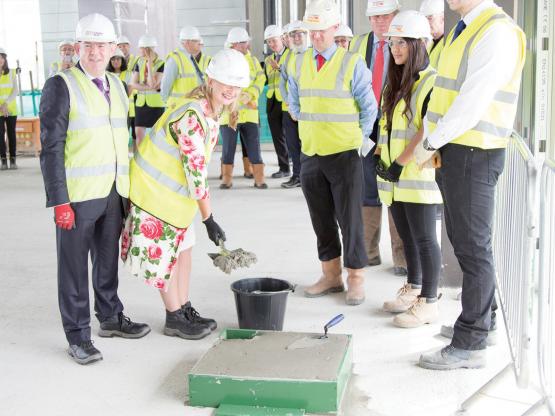 Construction milestone for City of Glasgow College 'supercampus'
The completion of our £228 million twin-site super college moves a step closer, following the 'Topping Out' of the new City Campus based at Cathedral Street.
Senior civil servant Aileen McKechnie, the Scottish Government's director of advanced learning, joined college graduate Mikaela Wright, who recently claimed a Medallion of Excellence in recognition of her skill in Patisserie at Worldskills 2015 in Sao Paulo, Brazil, to mark the event by adding the final shovels of concrete to complete the huge structural frame.
Opening in August next year, City Campus, on Cathedral Street, will offer state-of-the-art learning facilities, including multi-purpose convertible work spaces, while also bringing new parkland to the city centre and a row of city centre shops run by students.
City of Glasgow College Principal Paul Little said: "City of Glasgow College is on a journey towards attaining world-class status in teaching and learning as well as in the design of its new 'supercampus'. We are aiming to redefine college education and the sector's contribution to the economy, the community, and society. State-of-the-art facilities provided by Riverside Campus, which will formally open in October, and City Campus, set to open in August 2016, will help us achieve our world-class ambition. The 'Topping Out' of City Campus represents an exciting point in the construction of a building that will become a landmark of Glasgow's city centre and a beacon in Scotland's further education sector."
City of Glasgow College's Riverside Campus, on the banks of the River Clyde, will officially open in October. The completed twin-site 'supercampus' will be the size of 11 football pitches and be home to around 40,000 students a year. Construction is supporting over 800 jobs including creating 170 new jobs and 40 new apprenticeships, whilst providing vital contracts for local businesses.
Peter Reekie, deputy chief executive at Scottish Futures Trust (SFT), said: "The 'Topping Out' ceremony at City of Glasgow College's City Campus represents a fantastic milestone and comes less than a year until this ambitious city-centre campus opens. SFT's Non-Profit Distributing (NPD) programme has seen international finance combined with local design and construction skills to support many hundreds of construction jobs and deliver what will be a fantastic learning space for Glasgow.