Cork pops on wine and spirits class at City of Glasgow College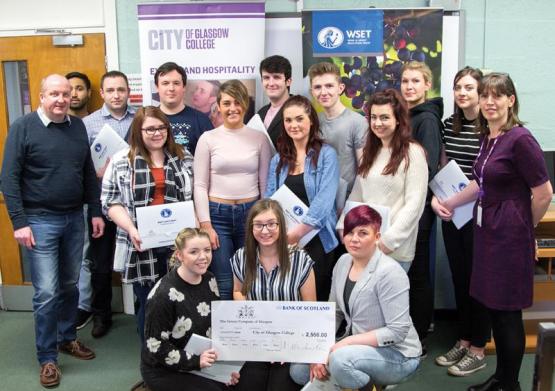 Students enrol on WSET Level 2 Certificate Wine and Spirits course
City of Glasgow College has launched a course by the foremost international body in wine and spirit education who offer a suite of sought-after qualifications.
Fifteen students have enroled in the Wine and Spirit Education Trust (WSET) Level 2 Certificate in Wines and Spirits which is funded by The Grocer Company of Glasgow.
Agnieszka Bobel and Alex Brownlee are HND Hospitality Management students at City of Glasgow College and believe the WSET qualification will give them an additional layer of knowledge that will take them to a different level:
"Completing this course and having a good knowledge of wine shows we have done something extra and have gained a specialist skill," said Agnieszka.
"This is an internationally recognised qualification that will make us stand out," added Alex.
Anne Miller, Lecturer in Hospitality at City of Glasgow College, said:
"We are absolutely delighted to be in partnership with The Grocer Company of Glasgow and to be able to provide this course free of charge to the students is a great benefit.
"As an Approved Programme Provider, City of Glasgow College is one of only two colleges in Scotland able to offer WSET qualifications. This course will give the students expert knowledge that will enhance their employment and development opportunities."
David Blackwood, Preses of The Grocer Company of Glasgow, said:
"My fellow Directors and I are very pleased to provide funds for a number of students, to help them gain a world recognised qualification with this course. The Grocer Company is delighted to continue to assist City of Glasgow College and further advance the careers of their students."
The course will cover the major grape varieties and where they are grown around the world; the history of wines, spirits and liqueurs, as well as viticulture, vinification and tastings.
The Grocer Company of Glasgow was founded in 1789 by city grocers and merchants who wanted to look after the poor and needy of the trade. The company meets annually in City of Glasgow College's Scholars Restaurant.