Enterprising students praised at John Mather Trust Awards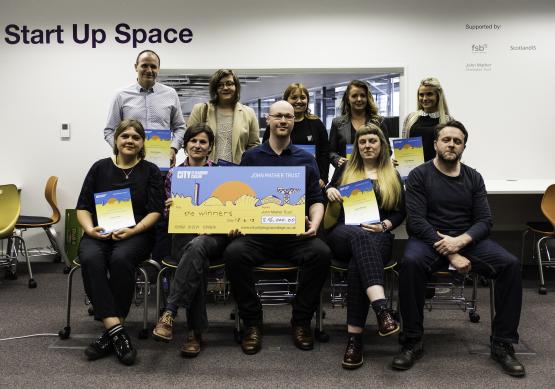 City of Glasgow College students have been recognised for their entrepreneurship at this year's John Mather Trust Enterprise Awards.
A total of 14 prizes were given out at a recent ceremony, with nine winners receiving their grants the same day.
The students, all of whom pitched their own unique business ideas in return for financial and business support from the charitable trust, received certificates and funding at a ceremony held at the Super College's City campus.
The amount awarded to individual students was as much as £900, with the team receiving a total of £16,000 in prize money.
Also in attendance at the ceremony were members of the college's senior management, the lecturing staff who supported the event, and the judges who decided the awards.
The certificates were presented by Depute Principal and Chief Operating Officer, Dr Sheila Lodge.
Tegan Marmon, 20, from Glasgow, who is studying HND Marketing and whose business, Dyno Valeting, won an award at the ceremony, said:
"It's great to have such positive support for young people entering business, both from City of Glasgow College and from the John Mather Trust. It is really hard to set up your own business and without the support I received, I'm not sure that I'd have been able to do it. I'm so grateful to everyone involved in these awards for all their help and I'm looking forward to using the funding to help make my business grow."
Commenting, James Wilson, Curriculum Head with the Faculty of Creative Industries, said:
"Our ceremony marks the conclusion of another exciting Enterprise competition at the college.
"We are very proud to have 14 winners in this highly competitive contest – each of whom has the ability to take their business ideas out into the world and make a success of it - and we wish them all the very best of luck."
Joanna Campbell, Vice Principal Student Experience, said:
"I'm in awe of the level of inspiration and entrepreneurship our students have shown in this competition. Many of our winners have received life-changing sums of money that will help them achieve their business goals and turn that inspiration into reality."