Equality and Diversity in Action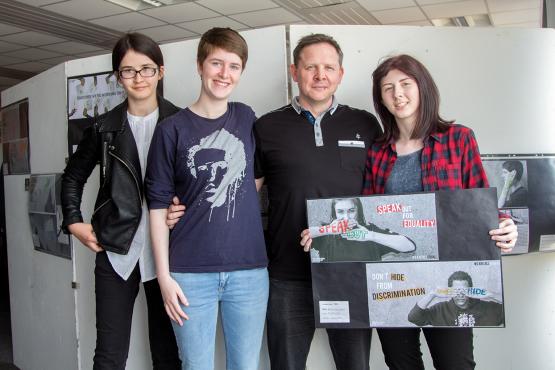 Embracing Diversity - Natalie Good with winning entry 'We Are All Equal'
City of Glasgow College's annual Embracing Diversity Competition sets out each year to find the most effective expression of the College's 'embracing diversity' ethos. The students are encouraged to consider what ED&I means to them.
This year's overall winner, selected from more than 60 extremely diverse entries, did just that. 'We Are All Equal' by Natalie Good, NC Graphic Arts student in the Creative Industries faculty used text and photography to help promote the different people and cultures who go to the college.
Natalie described her win as "overwhelming". "I did not expect it," she added. "My inspiration came from my sister who does face-painting. I did the photography and enjoyed working with other students and the lecturers."
City of Glasgow College Principal and Chief Operating Officer, Paul Little, said:
"The Embracing Diversity Competition is an important element of the learning and teaching experience. We live in a diverse world and we are better for it. Our College serves a diverse community so our student numbers and workforce must reflect that multiplicity. Year on year the entries for this competition succeed in embracing diversity with their thoughtful creativity and inventive message."
Graeme Brewster, Equality, Diversity & Inclusion Manager, said:
"Now in its fifth year, the competition is going from strength to strength. One of the benefits is that the competition and award ceremony encourage both students and staff to consider what fairness, opportunity and respect mean in practice.
"The judges were impressed by the clear and powerful ED&I message of Natalie's winning entry and we are looking forward to working with Marketing and Corporate Communications to use Natalie's design in awareness raising activities".
The entries from across the college were judged according to level of effort, originality of concept, and quality of work, impact and scope for raising awareness.
The full list of winners is as follows:-
Overall College Winners
Winner: Natalie Good, Faculty of Creative Industries, "We are all Equal"
Highly Commended: Anna Singh and Julie Lennox, Faculty of Leisure & Lifestyle, "People Love Glasgow"
Joint Commended: Jen McEwan, Faculty of Business, "Harvey Milk"
Joint Commended: Courtney Shearer, Faculty of Education & Society; "Girl with no Home"
Faculty of Business Winners
Winner: Jen McEwan, "Harvey Milk"
Highly Commended: Chelsea Kington, "Disabled and Fabulous"
Commended: Jonathan Pake, "Part of your Crowd"
Faculty of Creative Industries Winners
Winner: Natalie Good, "We are all Equal"
Joint Highly Commended: Andrew Maxwell & Lauren McGinley, "Following Footsteps".
Joint Highly Commended: James Cunningham, "Under the Skin, we're all Human"
Joint Highly Commended: Hanson & Lucas, "Open Arms"
Joint Commended: Agnieszka Ramian, "Rice to emPOWER"
Joint Commended: Sophie McCormick, "Look a Little Deeper"
Faculty of Education & Society Winners
Winner: Courtney Shearer, "Girl with no Home"
Highly Commended: Xia Chen, "Coloured Glasses"
Joint Commended: Ewan Ingram, Anthony Mcshane & Cameron Clark, "All Shapes and Sizes"
Joint Commended: Erin Eve, Caitlin Brawley & Chloe Murray, "Diversity Tree"
Joint Commended: Caroline Weir, "Together as One"
Joint Commended: Rosie Quin & Cara Govan (on behalf of students), "ESOL Respect and Inclusivity"
Faculty of Leisure & Lifestyle Winners
Winner: Anna Singh & Julie Lennox, "People Love Glasgow"
Highly Commended: Kirsty Gibson & Emma Brown, "Ingredients of Culture"