ESOL Students Celebrate Awards Triumph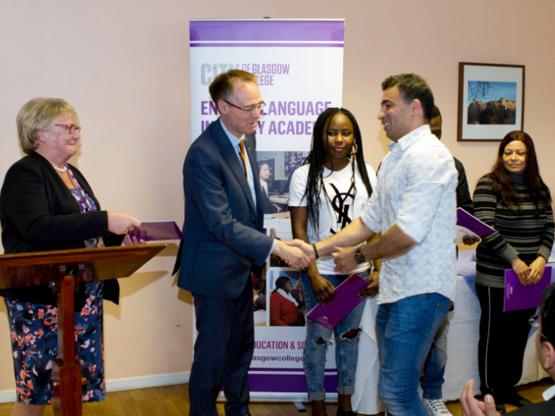 ESOL Students Celebrate Awards Triumph
The Faculty of Education and Society celebrated the success of ESOL students in an awards ceremony held today, Friday 23 October.
Presented by Minister for Learning, Science and Scotland's Languages, Dr. Alasdair Allan MSP, the awards recognise the achievements of individuals selected as Students of the Year in their level.
Each winner was nominated by teaching staff for their outstanding contribution to the learning environment, not only for themselves but within their group.
Dr. Alasdair Allan, Minister for Science, Learning and Scotland's Languages, said:
"Hearing the stories of everyone receiving an award for learning English as a second language is inspiring. I am delighted to congratulate all the students on their hard work and dedication. City of Glasgow College is one of many centres working in our college sector to support the aspirations of speakers of other languages who want to participate fully in Scottish society and I thank all of them for their efforts to do so."
Mary McManus, Curriculum Head ESOL, said:
"Over 1000 students from 99 countries studied with City of Glasgow College in 2014-2015 in the nine levels offered within the college and our community provision. To be selected as Student of the Year in each level is all the more impressive, given the enormous competition. All our ESOL students continue to work hard to gain their SQA qualifications."
Dolly Sunilkumar took the overall Student of the Year title. As College International Officer with the Students Association, Editor of the ESOL Oasis magazine, and a champion of diversity, equality and inclusion within the college, she epitomizes the commitment of ESOL students.
The celebration was held in the Bistro at Townhead with staff and students from the Faculties of Leisure and Lifestyle and Creative Industries taking part together with support staff from across the college.