Food and Hospitality Oscars Await for Team City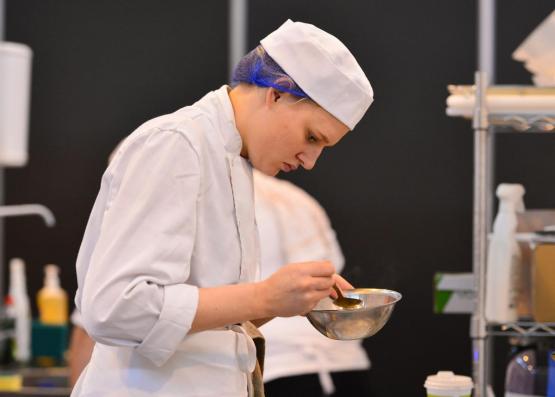 Mikaela Wright
The talented Food and Hospitality teams at City of Glasgow College are in the running for two prestigious catering and hospitality awards. Known as the Oscars of the hospitality industry, the Cateys recognise the sector's strongest performers, its latest emerging brands and highest flyers.
Willie McCurrach, Curriculum Head for Food, is up for a Catey in the Education and Training category whilst Senior Chef Lecturer, Gary Maclean, and Gordon McIntyre, Curriculum Head for Events, are both shortlisted in the CIS Excellence Awards for the Hospitality Educator Award category. The Caterer Cateys awards and the CIS Excellence Awards recognise and reward innovation and excellence in the British catering and hospitality sector. Also nominated are former City of Glasgow College Graduates, Mikaela Wright, for the Young Chef Award, and Helen Vass for the Patisserie Chef Award.
City of Glasgow College Principal and Chief Executive Officer, Paul Little, said:
"This is fantastic news. To have three members of staff and two former students nominated in these respected awards is very exciting and really shows the huge talent that has been encouraged and nurtured at City of Glasgow College.
"We have raised the bar with our ambition to be better than best and to be the only college in Scotland shortlisted in these competitions shows not only that we are achieving our aim but underlines the hard work, enthusiasm and commitment of our food and hospitality teams. I wish everyone the best of luck."
Willie McCurrach, Curriculum Head for Food, said:
"I am absolutely delighted to be nominated once again for this very prestigious award. The competition as always is very tough you are shortlisted with the very best of our industry in the Cateys. To be nominated by your peers and then to be chosen by the judging panel is a fantastic accolade. I am really looking forward to the night."
Willie is also attending this year's Royal Garden Party in Buckingham Palace on 17 May to celebrate The Prince's Trust 40th Anniversary. He has supported the programme for 10 years in the college.
Gary Maclean won the 2014 Nestle Toque d'Or Competition, is Craft Guild Lecturer of the Year 2015 and twice winner of the Nations Cup International Student Culinary Competition.
Mikaela Wright, who works at The Balmoral in Edinburgh, represented the college as part of Team UK in WorldSkills Sao Paulo 2015 where she achieved a Medallion of Excellence in the patisserie and confectionary category. Helen Vass is based at Number 16 in Glasgow and is through to the final semi-final in BBC Two's Bake Off Crème le la Crème.
The CIS Excellence Awards Ceremony takes place on 26 May at the Hilton Glasgow, and the winners of the Catey Awards will be announced on 5 July in London's Grosvenor Hotel.