Former Refugee and City Of Glasgow College Graduate makes bespoke PPE for NHS workers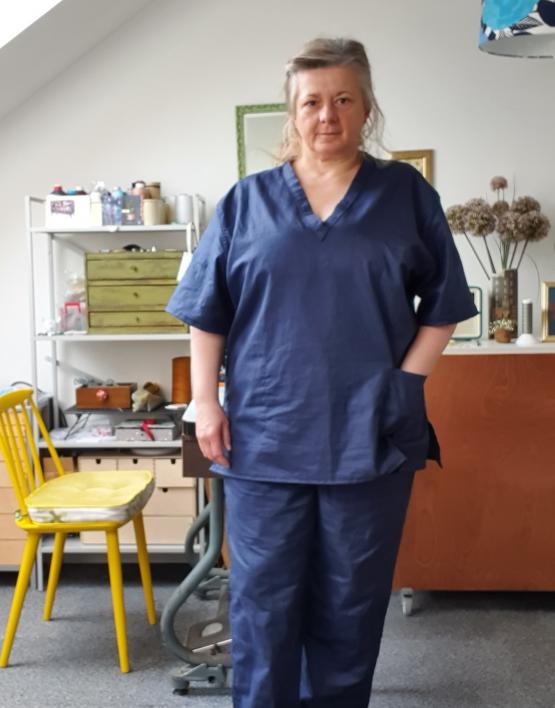 A City of Glasgow College graduate who arrived in Scotland as a refugee is creating Personal Protective Equipment for NHS workers in what she says is her chance to give back.
Jasna Memic, who moved to Scotland in 1994 from war-torn Sarajevo said: "So many people have helped me throughout the years, from when I came into the UK as a refugee to when I decided to change my career and start a new business. Now it's my time to give back. It's a no brainer. I feel really privileged that I have a chance to do it."
Jasna graduated from City of Glasgow College in 2016 with an HND in Furniture Restoration before opening her own interiors and furniture restoration business Little Plum Production which is based in Glasgow's Maryhill.
Now she is using her fabric to make gowns and scrubs for doctors and nurses working in hospitals and clinics.
She got the idea after speaking to her GP friend who told her the equipment would be useful.
"My friend told me there is a shortage of gowns that GPs can put over their own clothes when visiting high risk patients at home."
"I realised lots of people are making scrubs but not many people are making gowns so I made a few and sent them to GPs who would wear them."
"They were delighted with the quality and asked me if I would make some more."
"I wanted to focus on where I could help most rather than making masks for NHS workers which require a different level of protection."
This is not the first time Jasna has stepped up help her community during a crisis. Living under siege in Sarajevo in the former Yugoslavia, she worked in telecoms, transferring equipment from the top floors of buildings to the basement in order to save telephone communication.
After being granted refugee status in Scotland she worked in a pharmacy before gaining a qualification in IT and beginning a job in an architects' office maintaining their computer system.
In her late forties she decided it was time for a career change and began an HND in Furniture Restoration at City of Glasgow College.
"My tutor was a great inspiration. He was always very enthusiastic and encouraging to all students, older and younger."
As Jasna gets to work creating more gowns and scrubs for NHS workers she said the task has reinforced her belief in the power of community.
"I have a few friends who can sew who said if I provided them with fabric they would happily stitch it together."
"It's lovely because it's giving us a sense of purpose. It's not easy to be stuck at home if you're not working - you feel so useless. To be able to contribute and help the NHS and their incredible staff is brilliant."
"It's only when we get to a situation like this that people give much more than they were even aware that they could. I think when we all work together we are so much stronger."