Future prospects firm focus of Careers Week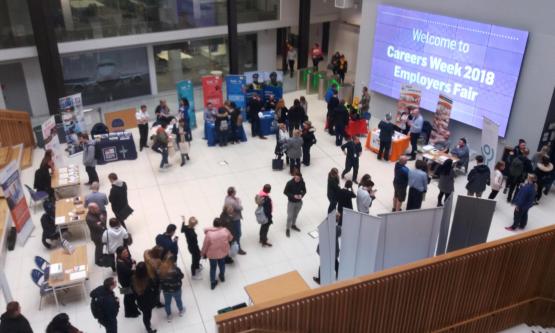 Careers Week Employers Fair
It's never too early to start planning for the future and City of Glasgow College's annual Careers Week is there to help.
Across a variety of events, workshops and talks and six themed fairs, almost 50 organisations passed through the college's award winning City campus over the course of a week.
Students took the chance to explore options for their future that included enterprise, volunteering, and a range of apprenticeships and work placements. They also took advantage of a number of talks given by employers and careers advisers highlighting university options and careers in industries as diverse as engineering and the armed forces.
Lisa Hardy, Student Advice and Funding Manager at City of Glasgow College, said:
"This was one of our busiest careers weeks and it was fantastic to see so many students engage with our business partners and employers to find out about the broad choice of career opportunities which are open to them once they complete their qualifications."
Rachel Pooley, Student Adviser at the college and responsible for organising the Careers Week, said:
"Organisations are already asking about next year's event and we have 18 confirmed to attend already. Careers advice is available to our students throughout their time at the college but bringing potential employers onto campus allows them to see first-hand what's out there and gives them the chance to make valuable contacts."
"Our next big event is the UCAS boot camp which takes place in the last two weeks of June. This is targeted at HND students and returning NC/HNC students who want to apply for university to start in 2019."
Careers services are available to students throughout the year including class talks and workshops, support with university applications, careers advice appointments, CV checks, evening workshops and mock interviews.
Students wishing to make appointments can do so through MyCity, where they can also register interest for the UCAS boot camp.
Next year's Careers Week will take place in the week beginning 4 February 2019.