Gold Medal Excellence for City of Glasgow College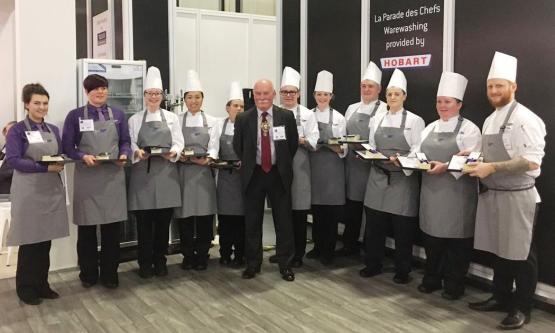 City of Glasgow College scooped an incredible 11 gold medals at this year's Great Hospitality Show.
The team of HND Hospitality and Professional Cookery students took part in La Parade de Chefs competition where they had to prepare and serve canapés for over 60 guests. All the students, and their lecturer, were each awarded a gold medal for their talent and skills.
Kenneth Hett, Senior Lecturer in Food at City of Glasgow College, attended the event and said:
"Our College entered two HND Hospitality students and eight HND Professional Cookery students who all worked extremely hard for this event within a concentrated timeframe. This is a fantastic medal haul and a very well deserved win so we are extremely proud of our students' achievements."
Jane McQueen, Curriculum Head for Hospitality at the College, said:
"The programme of culinary and hospitality competitions at the Show is designed to give both front of house staff and chefs, in the early stages of their careers, a chance to hone their skills and get a taste for competition. Our students have ably shown how well they can perform in the spotlight and under pressure and their medal success is a great start to 2017 for City of Glasgow College."
Willie McCurrach, Curriculum Head for Food, said:
"Team City is delighted to have been awarded 11 gold medals at this prestigious industry event. The dedication of the students and lecturing staff has showcased the important training and skills that Further Education training can achieve."
The Great Hospitality Show is a celebration of everything great in British hospitality and is the UK's most comprehensive exhibition for foodservice and hospitality. It features the broadest range of future trends, fresh talent and new ideas to help the industry push boundaries in quality and innovation.
City of Glasgow College was one of a number of colleges, training institutions, hotels and catering organisations across the country to take part in Salon Culinaire, a programme of competitions designed to showcase the wide range of talent within the UK's hospitality industry.