Hospitality Modern Apprentices a first in the UK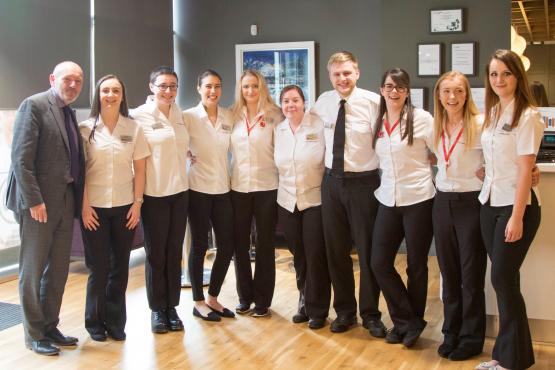 CalMac Hospitality Apprentices graduate from City of Glasgow College
Graduates of a new Hospitality Modern Apprenticeship aimed specifically at the merchant marine industry are on course for a career at sea.
The newly qualified apprentices are taking up full time roles as stewards with ferry operator CalMac thanks to a successful partnership with City of Glasgow College.
Martin Dorchester, Managing Director for CalMac, explained:
"This new MA, the first of its kind in the UK, ensures our crews get the best, most relevant training that's available, we know this because we helped design the course.
"Although many elements of the hospitality industry, like good customer service, are the same whether on land or afloat, our stewards need to do more than just look after our passengers' comfort. They have to be trained in fire-fighting, first aid, rescue boat operations and other tasks vital for keeping passengers safe."
The year-long MA Hospitality with Maritime Enhancements involved class based learning at the college together with time spent training on-board some of CalMac's 32-strong fleet.
Jane McQueen, Curriculum Head for Hospitality at City of Glasgow College, said:
"Our nine apprentices have worked extremely hard over the year so it was fantastic to celebrate their achievements, as well as the success of our partnership with CalMac. Our college values the importance employers play in shaping our curriculum. This helps to create a highly skilled and adaptable workforce for the future."
The partnership with City of Glasgow College was devised to fulfil a particular requirement CalMac had for staff.
"This qualification, while designed specifically to meet our needs, will stand our MAs in good stead wherever they choose to take their career at sea. It also further strengthens the partnership we have with City of Glasgow College who already train our engineering and deck apprentices, and we look forward to many more qualified MAs joining our crews," added Martin Dorchester.
Modern Apprentice, Meryn Finlay, from Inverness said:
"A Modern Apprenticeship offers the best of both worlds, on the job training and college qualifications, that's what attracted me to it. It's a great first step towards building a long career and CalMac is great company to start with."
As well as on the job training the MAs are also qualified in hospitality (SCQF Level 5), maritime studies (SQA Level 2) and elementary food hygiene (Royal Environmental Health Institute of Scotland Level 2).