Hospitality students inspired by award-winning restaurant boss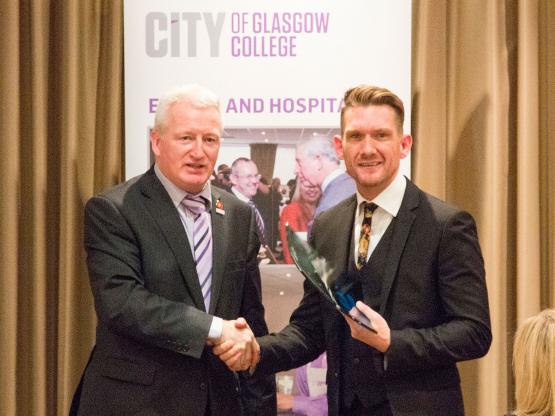 Hospitality students inspired by award-winning restaurant boss
City of Glasgow College hospitality students got the chance to work with award-winning international restaurant professional, Peter Avis, when they hosted a lunch for over 50 guests at Scholars Restaurant on Monday 9 November.
Aspiring restaurant managers, Collette Campbell and Dani Docherty were among 20 students from the HND Hospitality course who formed the front-of-house team serving under the direction of Avis, while HND Professional Cookery students prepared the meal.
Collette said: This opportunity has been brilliant. Peter is such a nice man with a fantastic manner and a great way of communicating with people. His team are really helpful and their confidence projects onto us. Working with someone like Peter at such a busy event gives you confidence."
Dani added: "This has been a brilliant opportunity. Peter is so influential in the hospitality industry and to get the chance to work with him is great. The things I learned from him in the first two hours were incredible. I hope to go onto university and get a degree, and I would then like to go abroad and run my own business."
Gordon McIntyre, Curriculum Head of Events, commented: "The students learned high-quality customer service delivery from an award-winning restaurant manager. Peter and his team, a further three professionals who travelled up from London, guided the students and gave them tips on improving their service. This was a world-class training experience for all the students."
Peter Avis is The Catey Award winner 2014 for Manager of the Year and in charge of Richard Branson's Babylon at The Roof Gardens in London. The former Academy of Food and Wine Service Restaurant Manager of the Year started his career washing dishes but was quickly promoted and has worked at the MGM Grand Hotel in Las Vegas, the Royal Garden Hotel in London and a private member's restaurant before joining Babylon in 2001.