Innovation stars at Fair Trade Awards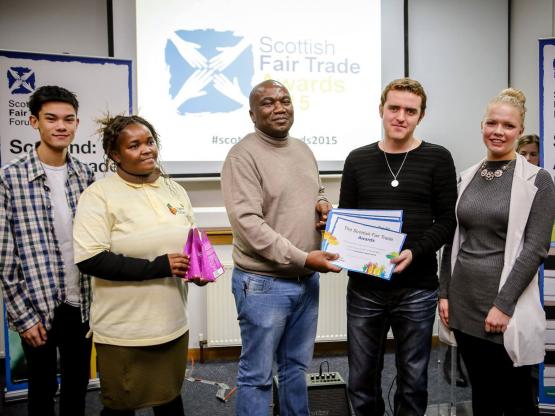 Innovation stars at Fair Trade Awards
Five City of Glasgow College Students have received a top commendation at this year's Scottish Fair Trade Awards, held on Tuesday 24 November.
The College's Hospitality Management and Professional Cookery students, Unity Monaghan, Chloe Hart, Dali Daluze, Andrew Tsang and Kevin Carmichael were presented with the 2015 Innovation Award at the event, held in City of Glasgow College.
The awards recognise individuals, communities and organisations who have made a significant impact on Fair Trade and have been an inspiration to those around them.
City of Glasgow College Principal Paul Little said: "I'm delighted with the success of our very innovative students, particularly for this very important cause.
"At City of Glasgow College we endeavour to work with our partners to integrate Fair Trade principles and corporate accountability into as many aspects of work as possible."
City of Glasgow College students were nominated for a project they set up; linking Fair Trade with their studies and the City of Glasgow's Green Year 2015. The College students wanted to promote the topic in a new way, and came up with the idea of a themed Fair Trade banquet, under the title 'Let Fairtrade Flourish.'
Students sourced Fairtrade ingredients to provide a delicious dinner which also offered them an opportunity to educate their guests about the work of Fairtrade.
The highly successful event, with over 40 attendees, has led to further initiatives at City of Glasgow College including the development of a staff/student Fair Trade Steering Group and working toward becoming an accredited Fair Trade College.
Martin Rhodes from The Scottish Fair Trade Forum said: "The Fair Trade movement always needs innovative ways of connecting people and new avenues for engaging people with the cause. These five students showed creativity and innovation in planning and executing a successful event. Congratulations to all the students involved."