Interfaith Month at City of Glasgow College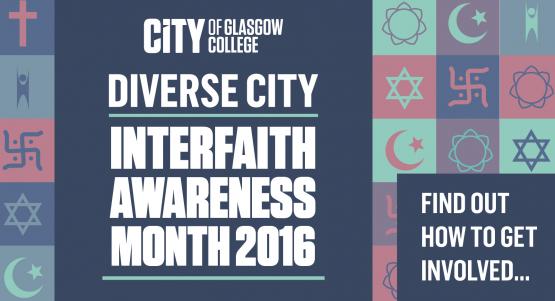 City of Glasgow College - Interfaith Awareness Month
November is Interfaith Awareness Month and City of Glasgow College is committed to celebrating the diverse range of spiritual and non-spiritual backgrounds in our college.
A series of events and activities will take place throughout the month which both staff and students will be encouraged to get involved in.
Graeme Brewster, Equality, Diversity & Inclusion Manager, said:
"Interfaith Awareness Month gives staff and students the chance to learn more about different religions and faiths through initiatives such as our Chaplaincy service and Quiet Reflection spaces.
"I would encourage staff and student to come along to the Roadshow on 24 November to meet the College Chaplaincy team and find out more."
The college will host the Action of Churches Together in Scotland – Annual FE Chaplaincy Conference on Thursday 17 November at its Riverside campus. It is aimed at Further Education Chaplaincy teams and support staff and will include workshops on refugees and mental health.
A College Chaplaincy Roadshow will take place on Thursday 24 November at the college's stunning new City Campus on Glasgow's Cathedral Street. With nine Chaplains representing a range of different faiths and beliefs, the College Chaplaincy team is a great resource for students and staff looking for support, advice or someone to talk to about issues of faith or belief.
As well as our own College-wide activities, Interfaith Scotland is organising events across Scotland as part of Inter-Faith Week. You can visit their website for more details.