Leading the way in Enterprise Education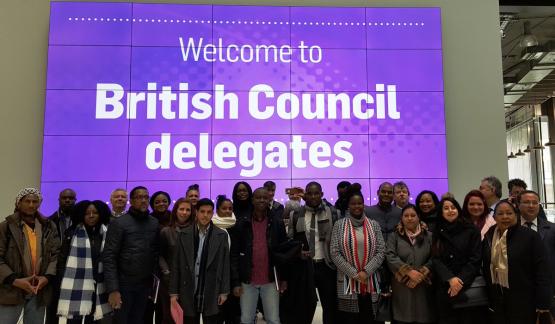 City of Glasgow College welcomed a British Council delegation who were visiting Scotland to debate the current UK and global thinking on the role that enterprise and entrepreneurial training can play in the international skills agenda.
The high profile visit was the first of its kind to be hosted in a further education college with 40 delegates from as far afield as Nigeria, Uzbekistan, India, Cuba, Jordan, the US and Chile attending.
Ian Cumming, Senior Specialist in Vocational Education and Training (VET) Policies and Systems, said:
"The trip was excellent and the visit to City of Glasgow College was a high point. I was accompanying the Uzbek delegation as part of on-going EU cooperation with Uzbekistan in the development of Vocational Training and Labour Market systems.
"The trip was important in terms of other European Training Foundation (EFT) partner countries - Tajikistan and Turkmenistan – but also as a connection with all our countries and thematic areas of interest."
Carla Gethin, Head of Business Development and Industry Academies at City of Glasgow College, said:
"We were delighted to welcome the British Council delegates and show them City of Glasgow College's approach to embedding enterprise and technical vocational training within the curriculum. They also got the opportunity to see City Learning in action during a tour of our stunning new City Campus.
"This high profile visit has led to a number of opportunities for us to work in collaboration with Federal Governments and educational institutions around the world.
"There was particular interest in the significant experience our college has in consultancy and development of technical and vocational education nationally and internationally, and how we can help address and support the skills challenges currently being experienced globally."