New Foundation Apprenticeships for School Pupils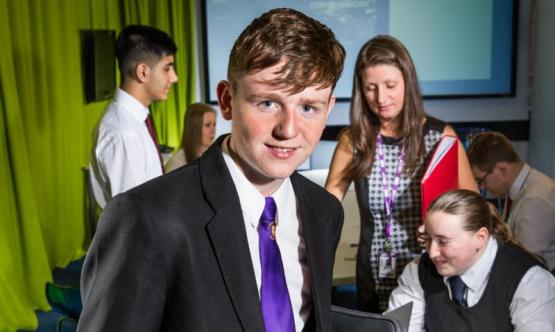 Foundation Apprentices
Glasgow's three colleges – City of Glasgow, Glasgow Kelvin and Glasgow Clyde – are blazing a trail in the delivery of a new Foundation Apprenticeship programme, created by Skills Development Scotland and supported by the European Social Fund.
A launch-pad for young people to achieve their career goals and with the valued input of employers, the programme will help to create a skilled and qualified workforce for the future.
Monisha Sandhu is a fifth-year pupil from Bishopbriggs and currently a Foundation Apprentice in financial services at City of Glasgow College while on weekly placements with the stockbroking arm of Barclays:
"I'm learning so much about life on the trading floor of a busy stockbroker, and I definitely want to pursue this as a career when I leave school. I honestly couldn't have asked for a better opportunity – the experience I'm getting at such a young age will be very advantageous when I apply for jobs in the future."
The initiative will give school pupils the opportunity to gain an apprenticeship in a wide range of sectors including civil and mechanical engineering, financial services, healthcare, and IT hardware and software. Foundation Apprenticeships are awarded at SCQF level 6, the equipvalent of a Scottish Higher.
17 year old Ethan Collins, an electrical engineering Foundation Apprentice at Glasgow Kelvin College and a pupil at Eastbank Academy said:
"You do need to be really organised to balance your school and college work but I can't wait to put the skills I'm learning at college into practice when I go to my work placement next year. My teachers at Eastbank Academy and my lecturers at Glasgow Kelvin have been really supportive and encouraging. When I finally go for job interviews these skills are going to give me the edge over other candidates."
The Foundation Apprenticeship lasts two years and is undertaken during 5th and 6th year of school. Pupils will continue with their school studies while attending college and fulfilling a work placement. They will learn practical workplace skills and gain an industry recognised qualification.
Two of Glasgow's colleges already run Pathfinder Foundation Apprenticeships in electrical engineering at Glasgow Kelvin College and financial services at City of Glasgow College.
Amey are one of the employers supporting the Pathfinder programme at Glasgow Kelvin College and Gerry McCarron, Local Government Account Manager with Amey, outlined the benefits to participating employers:
"Not only can we introduce young people to current practice in a working environment, but our own staff benefit by working with the trainees. The opportunity to pass on their skills makes them more self-reflective and helps them stay current with new developments in the industry. As employers, we are delighted to see focus returning to the provision of apprenticeship training as any investment we make in our young people is ultimately an investment in a growing Scottish economy."
Graeme Hendry, Foundation Apprenticeships Regional Manager for the West Region of Skills Development Scotland said:
"Skills Development Scotland is delighted to be working with the three Glasgow Colleges to deliver Foundation Apprenticeships. The knowledge, skills and experience the young people will gain will give them a head start in their career and equip them with the skills that employers are looking for."
Working closely with schools, local authorities and employers, the colleges have designed a framework and outcomes which will be ready for young people starting in August of this year. The ambitious programme will be delivered consistently across Glasgow City, East Dunbartonshire and East Renfrewshire local authority areas and may be available to other local authorities in the future.
Information events are being held on 26, 27 and 28 April at each of the colleges to bring together school staff, pupils, college departments and employers.
For more information on the programme contact Liz Breckenridge, Glasgow Kelvin College, on 0141 630 5124, email lbreckenridge@glasgowkelvin.ac.uk.